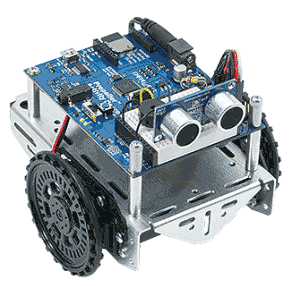 Attendees will experience how easy it is to jump into STEM topics with the ActivityBot robot, a development platform for the multicore Propeller microcontroller. Our web tutorials, SimpleIDE software and custom libraries designed for beginner-level embedded C programming lets students start quickly with simple successes, and dive deeper when their curiosity is engaged. Designed with high schoolers in mind, discussion will include adapting for use with different grade levels.
Activities
Build a low-battery indicator circuit
Learn robot motor control and navigation basics
Control distance and speed using encoders
Avoid obstacles with touch whiskers
Autonomously navigate a room using infrared headlights
...and much more. See the current ActivityBot Educators Course Activities page.
STEM Topics
Programming & Computing: displaying messages, remembering, computations, counting and repeating actions, decision making, using libraries to simplify your code, multiprocessing libraries
Physics: velocity, distance, time, sound and light frequencies
Robotics: sensor inputs, microcontroller processing, motor control output
Electricity & Electronics: voltage, resistance, current, voltages and signals, binary vs. analog signals
Digital Electronics: control binary outputs and monitor inputs, A/D and D/A conversion
Prerequisites and Equipment
The topics in this course are technical in nature so experience with tinkering and/or computer programming basics are helpful but not absolutely required. Minimum prerequisites are typing and basic computer skills: operating a mouse, installing software, navigating between applications on your computer.
Propeller ActivityBot robots and other hardware to use during the course will be provided. Bring your own Windows or Mac laptop computer. Click here for the SimpleIDE software and USB drivers installation instructions.
---
Scheduling & Registration