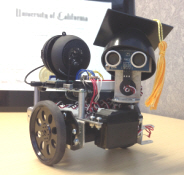 Our Featured Teachers are inspirational educators who are sharing their best tips for using Parallax robots and microcontrollers in their classrooms.
About the Featured Teacher Award Program
The goals of our Featured Teacher Award program are:
To recognize the contributions made to the educational community by teachers we are honored to meet through Parallax Education. We are often amazed by the creative ways they use our products in a broad range of educational settings.
To help other educators start or improve their STEM or Robotics programs by providing inspiring examples of what is working for their peers. This is a place for teachers to share a bit of experience, ideas, advice, and even resources if so inclined. After all, our teacher-customers are the true Parallax Education experts!
Eligibility and Nominations
To be eligible for nomination, an educator must:
Currently (or very recently) teach in a public or private K-12 school, junior college, trade school, or university. District technology coordinators are also eligible, as are homeschoolers, robotics club mentors, and Scout leaders.
Use Parallax's microcontrollers, robots, development boards, or education kits and tutorials with their students as a substantial element in their curriculum.
Selected recipients are announced on our Featured Teachers page. Their Featured Teacher interviews are posted online to be shared with the educational community.
To be considered for a Featured Teacher Award, download our Featured Teacher Interview Form (a PDF form). Fill it out, and return it with a photograph. If you wish, you may also send any classroom resources to use with Parallax products that you would like to share with other educators.