Congratulations and thank you for purchasing a Parallax ELEV-8 Quadcopter, designed and manufactured in California, USA. We at Parallax pride ourselves on producing high-quality products with industry-leading documentation and support. If you require assistance, please do not hesitate to e-mail or call us. These instructions are for assembling the Parallax ELEV-8 Quadcopter Version 2 (#80200 or #80202) in its most standard configuration.
If you have an ELEV-8 v3 Quadcopter you must register it with the Federal Aviation Administration's UAS Registry before flying outdoors.
Do not use any assembly instructions or guides other than those provided by Parallax Inc. for your exact part number. Doing so may result in hardware failure and/or personal injury. Also note that there are small but extremely important differences between Version 1 (#80000) and Version 2 (#80200/#80202) of the ELEV-8; do not use this web guide for assembling Version 1.
This assembly guide assumes your ELEV-8 V2 kit contains a flight controller (#80200). If you bought the ELEV-8 V2 No Flight Controller kit (#80202), sections regarding the programming and installation of the HoverFly Open will not apply to you. Watch for special announcements on these pages as you progress through assembly.
This guide consists of thirty-nine discrete assembly steps, organized into nine sections. The introduction page of each section will explain what will be done in the steps within and why, and list all of the tools and parts you will need for that particular section. If you prefer to work from a printed version of these instructions, scroll to the bottom right-hand corner of this page and click on the "Printer-Friendly Version" link (it may take several minutes for the page to load). Please be advised - this assembly guide is 147 pages in length when printed.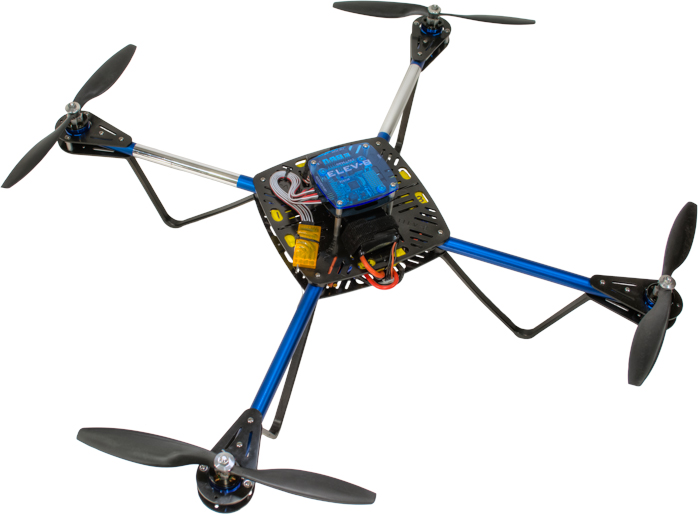 Preparation
Read the important Safety Information sheet included with your kit. Building a Quadcopter is a rewarding but potentially dangerous undertaking, so it is critical that you have an understanding of the risks involved to maximize enjoyment and minimize danger. Please always wear eye protection when assembling, soldering, or operating your ELEV-8.
Carefully cross-check the contents of your kit with the enclosed Bill of Materials (BOM). If you are missing any components, e-mail or call our sales department (888-512-1024). (Note that some items are small sub-kits with parts not listed separately. Parts and quantities subject to change without notice.)
Read the entire assembly instructions before beginning. Assembly and testing takes 6 –12 hours, depending on skill level, equipment, and work space. If you do not have prior experience soldering, we recommend you take some time to learn and practice before beginning this project.
Gather your kit and all of the additional items and tools required in a well-lit and comfortable work area.
After educating yourself on the safe and proper use of Lithium-Polymer (LiPo) batteries, charge your LiPo battery.
Please do not rush through the assembly and testing process. If you go slowly, and exactly follow these instructions, you should experience few or no issues with your ELEV-8. But if you accidentally overlook any part of these steps, you may end up with a dysfunctional quadcopter that could require considerable troubleshooting before it can fly. It never hurts to double-check your work at each step!
Additional Items Required
Radio Control Transmitter and Receiver; 5-channel minimum required for flight. We recommend (and will provide instruction for) the Spektrum DX6i transmitter and matching Spektrum AR610 receiver (or OrangeRX R615); this setup will accommodate simple projects requiring one extra servo. If you anticipate building more sophisticated projects, such as controlled camera gimbals, we recommend the Spektrum DX8 and matching Spektrum AR8000 receiver (or OrangeRC R800X) and Spektrum TM1000 telemetry transmitter. While this equipment is somewhat expensive, it is high-quality and will accommodate both your current and future needs.
Lithium Polymer (LiPo) battery with 3000 to 4400 mAh capacity and minimum 20C discharge rate, such as Parallax product #752-00010.
"LiPo Balance Charger" (packaging should have those exact words), such as Parallax product #752-00009. Using a charger not designed for LiPo batteries will cause the battery to flame and release toxic smoke.
A LiPo Low-Voltage Alarm, such as Parallax product #752-00014. These will alert you with a very loud buzzer when your battery voltage gets low, significantly reducing the risk of damaging your battery or crashing your ELEV-8.
We recommend you acquire the ELEV-8 Crash Pack (#80080). Crashes are an inevitable part of the learning process, and having to wait around for replacement parts is always a bummer.
Tools Required
Loctite and 242 are trademarks or registered trademarks of Henkel Corporation, U.S.A. Spektrum is a trademark or registered trademark of Horizon Hobby, Inc. and Bachmann Industries, Inc. Hoverfly is a registered trademark of Hoverfly Technologies, Inc. Futaba is a registered trademark of Futaba Denshi Kogyo Kabushiki Kaisha Corporation of Japan. Hitec is a trademark or registered trademark of Hitec RCD USA, Inc.