The original Boe-Bot® robot with its BASIC Stamp® 2 brain shown below was introduced by Parallax Inc. in 1999. The Boe-Bot robot enjoyed instant popularity, which continued to grow as the kit and accompanying educational text evolved and more schools adopted it into their robotics, electronics, programming and physics programs. Today, the Boe-Bot Robot Kit and its accompanying text enjoys international popularity in the hobby and educational markets, and its Robotics with the Boe-Bot textbook has been translated into seven languages (and counting).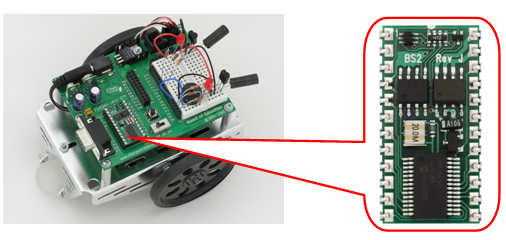 The Arduino microcontroller arrived on the scene in 2005, and has attained its own level of popularity, especially in the DIY (do-it-yourself) hobby community. The Arduino hardware and software have many functional similarities to the BASIC Stamp microcontroller and software. Parallax teamed up with SimplyTronics to design the Board of Education® Shield, which makes the Arduino hardware compatible with the Boe-Bot chassis. Together, the functional similarity and hardware compatibility made porting example programs and educational material from Robotics with the Boe-Bot to robotics with the Board of Education Shield a very simple project.
The end result is the BOE Shield-Bot and this educational text. Together, they make the fun and satisfaction of programming a Boe-Bot robot, and the skills and techniques introduced in this text, available to the Arduino community.