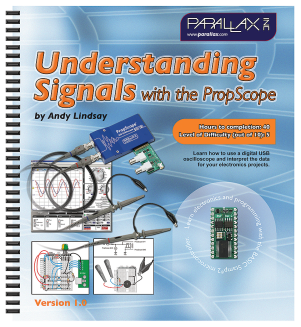 This STEM-oriented guide for helps develop skills in electronic measurement techniques. For use with the Parallax PropScope USB Oscilloscope, it's an in-depth look at the oscilloscope's features and functions, starting from basic concepts and moving through more advanced techniques.
Whether learning in a classroom or independently, the hands-on exercises illustrate the cause-and-effect relationship between physical actions and observed changes electrical signals. Available as a free download.
Note: The physical text and parts kits are no longer available for sale. Many parts may still be available as individual components through the Parallax store.
Topics covered include:
DC voltages and currents
"Human-speed" measurements
Pulses for control and synthesizing signals
Microcontroller/integrated circuit communication
Microcontroller/PC communication
Sine waves in signals, and how filters and amplifiers affect them
RC circuit responses, sensor measurements, and simple filters
BASIC amplifier building blocks