Level: Intermediate
Hours to Complete: 3
Skills Required: Soldering, C Programming
This project turns the Parallax Hackable Electronic Badge into a Physics Measurement Tool using the on-board accelerometer, a PING))) Ultrasonic Distance Sensor, and a FlexiForce Pressure Sensor. The Physics Fun Badge measures distance, tilt, and force. The Light version of the example code displays live readings from all the sensors on the screen. The Full version of the software records sensor data in EEPROM. Recorded readings can be visualized as a graph on the main screen, and also exported as comma-separated values using the SimpleIDE terminal.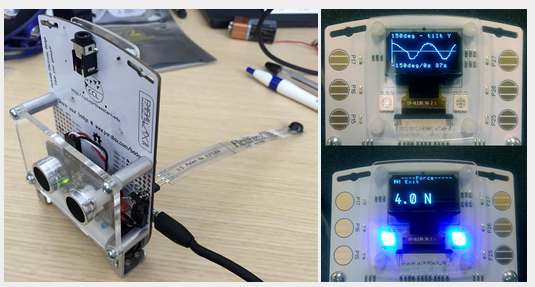 What's Needed:
A small amount of soldering along with the ability to work with a material like wood or plastic is required to make this badge.
(1) FlexiForce Sensor Demo Kit (#30056 - Includes 0.01 uF capacitor and 220 ohm resistor)
(1) Cell phone booster battery (to supply the 5 V needed by the PING))) sensor
(4) 3/4" or 1" aluminium or plastic standoffs and matching 8 screws (#4-40 screws work with modifications, #2-56 screws will work better)
(1) 2" x 3" plastic, wood, or fiberglass sheet to make a mounting plate
(2) #4-40 1/2" screws and nuts to fasten the PING))) sensor to the mounting plate
(2) #4 1/4" Nylon spacers to go between the PING))) sensor and the mounting plate
(2) #4 Nylon washers to go between the PING))) sensor and the nuts
(1) 0.1" female 3 pin header (male header with a servo extention cable will work just as well)