If your Propeller ActivityBot came with a Mechanical Assembly Guide, you may have put yours together already.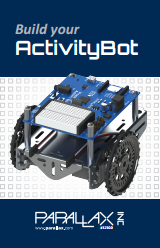 If your robot is already assembled, skip ahead to Electrical Connections.
If not, follow the steps below to put your robot together.
Replacement Parts
Most of the pieces in the kit are available for purchase individually online from www.parallax.com. Any piece can also be obtained by contacting sales@parallax.com or calling 888-512-1024.