Mounting the Right servo in the Chassis
Parts needed for this step:
(4) 3/8-inch pan-head steel screws (#700-00002)
(4) #4-40 nylon core lock-nuts (#700-00024) OR regular nuts (#700-00003)
Servo with horn removed
prepared chassis
Parallax mini combo wrench (#700-10025)
Parallax screwdriver (#700-00064)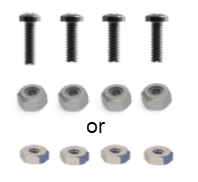 You can use regular nuts or lock-nuts to mount the servos. Lock-nuts have white Nylon inserts that make a tight grip on screws, so they don't loosen easily with vibration. But, they take a little more force to install.
If you want to use the lock-nuts, press the closed end of the little black wrench over each lock-nut to hold it in place while attaching the screws.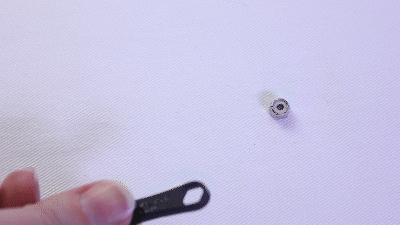 Position the right servo inside its chassis mounting hole so the spline is towards the middle of the robot and the servo cord is next to the grommet.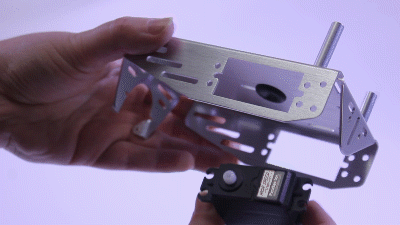 Use a 3/8 inch steel pan-head screw and nut in each of the servo's four mounting holes to secure the servo to the chassis.