BlocklyProp Block Reference for the multicore Propeller microcontroller development boards, including the Activity Board WX, ActivityBot Robot, and Propeller FLiP. ( For the Scribbler S3 Robot Block Reference, click here.)
Open the BlocklyProp online programming tool.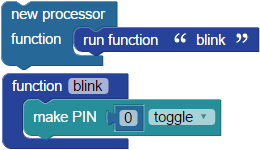 Many of these blocks would also be compatible with other Propeller development boards that have the same EEPROM and 5 MHz oscillators. Be aware that these blocks may restrict I/O pin options to be compatible with the built-in accessories on the Propeller Activity Board WX.
Need HELP??? If you get stuck, contact Parallax Tech Support: email support@parallax.com, or call 888-997-8267 (USA only) or 916-624-8333. 8-5 M-F. Pacific Time. The BlocklyProp FAQ for Schools may also be of help installing BlocklyProp.