Contest Name: 2D/3D Maze Competition
Submitted by: Zillah Robot Challenge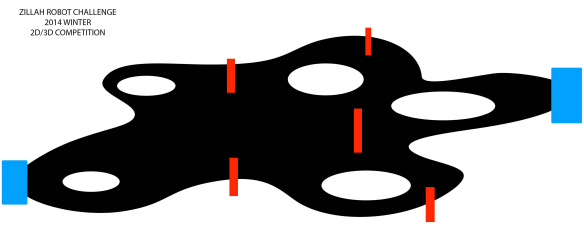 This image is meant as a sample illustration of course design only, and not an actual course. Teams would start on the far left (in the blue box) of this track, and end on the far right (as soon as they break the plane of the blue box). The red rectangles represent 3-dimensional objects (at least 4 inches high, NOT drawn images) blocking the path. Your bot must be able to stay on the black AND navigate around 3D objects.
Each team will be allowed to "test drive" the tracks prior to their "official run" to perform testing and calibration during practice time.
The track will be on a paper no larger than 4 feet by 8 feet.
All robots must be ready to run at the start of the competition. The order of running will be announced at the competition.
Before the competition starts, all contestants will be invited to examine the courses. Any issues (smudges, uneven surfaces, etc.) must be brought to the attention of the judges before the competition begins.
Each team will complete each of 4 courses, with their combined times resulting in their overall score.
The contestants start a course by pressing their robot's reset button. Timing of the run will begin when the robot crosses the start line.
Each course run will be timed by two judges, each with a stopwatch. The average time between the judges will be used as the official timing for the run.
Once a course run has started, no contestant or official may touch the track or interfere with the robots in any way except to reset a robot as stated in #9. Resets are done only by one pre-selected team member.
The pre-selected team member may pick up the robot and reset it behind the last reached check point at any time. Resetting a robot onto the course incurs a 10-second penalty (plus however much time it takes the team member to replace it). Placement is no further than the last check point along the track.
If the robot goes outside the black portion of the track, the robot must be reset, as in #9. This does incur the same 10 second penalty.
A robot's run ends when it has completed the course, or it is deemed by the official to be unable to track the line, or at the end of 2 minutes.
Any robot that does not complete the course will be given an official time of 2 minutes.
A robot may only make one official attempt at a course.
Special thanks go to the Zillah Robot Challenge group for allowing us to share this competition idea. For more information on the Zillah Robot Challenge, visit their website. To see the full list of rules for the Winter 2014 challenge, you can download the PDF copy provided to us by the ZRC.