Contest Name: Box Maze
Submitted By: Courtesy of Gary Reynolds, Physics Instructor at Santa Ana High School, Santa Ana, CA
Materials:
Boe-Bot, Shield-Bot, ActivityBot or Similar Robot
3 (three) 36-inch long 1x6" or 2x6" Boards
2 (two) 14-inch long 1x6" or 2x6" Boards
1 (one) 20-inch long 1x6" or 2x6" Board

(Similarly sized hard objects can be used instead of boards)

Right angle brackets or other means for holding up the center board
Objective:
The objective is for the robot to locate the opening and exit the box in the shortest time possible from each position.
Rules:
About the Robots:
The robots in this game must be similarly matched in capability - wheel encoders should either be required for all robots or not allowed for any, top speeds should be similar, the sensors allowed should be the same.
About the course/field:
A robot fitted with touch sensors, IR sensors, or a PING))) sensor will be given 3 different positions and directions to start within the box, unknown beforehand.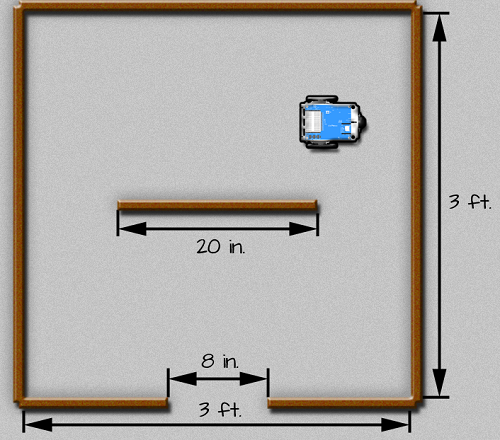 About the Game:
This competition tests the robot's response to its sensors, accurate movement, and strategy of the programmer.
Scoring:
Raw score is the sum of seconds for exiting from the three different starting points.
Any robot that does not exit within 120 seconds is stopped and assigned 120 seconds for that attempt.
Maximum score allowed is 50 points. Note that three exits within 20 seconds or less will give a maximum score. Failure to exit 3 times produces a zero score.
Scoring formula: