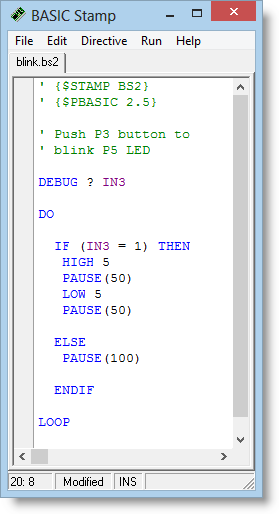 The BASIC Stamp 2 is a staple in microcontroller education. Many teachers find it an ideal microcontroller for a first-time text programming experience.
Why choose PBASIC?
PBASIC is a variant of familiar BASIC, with special commands for monitoring and controlling circuits
Program execution is a single process from top to bottom, making it easy to follow and understand
The syntax is very clean and simple — no curly braces or semicolons required
The language is not case-sensitive, a great advantage for new programmers
The BASIC Stamp Editor applies sytnax highlighting — capitalization and color — to help identify elements and key words
What programming concepts are covered?
30 mathematical operators
Handling values in decimal, hexadecimal, and binary formats
Constants and Bit, Byte, and Word variables
Branching with

IF...THEN...ELSE

,

SELECT...CASE

,

(ON)...GOSUB

, and

(ON)...GOTO

Infinite looping with

DO...LOOP

, and conditions like

WHILE

and

UNTIL

Counted loops with

FOR...NEXT

Data display and data input with a built-in serial terminal
Memory access, including

READ

,

WRITE

,

DATA

, and more
Commands for generating and monitoring voltage signals on I/O pins, such as

HIGH

,

LOW

,

PULSOUT

,

PULSIN

,

PWM

,

RCTIME

and many more
Conditional compilation with

#DEFINE

,

#IF...#THEN...#ELSE

,

#SELECT...#CASE

, and

#ERROR
Learn More...