---
Section 6 - Assembling and Mounting the Ping))) Sensors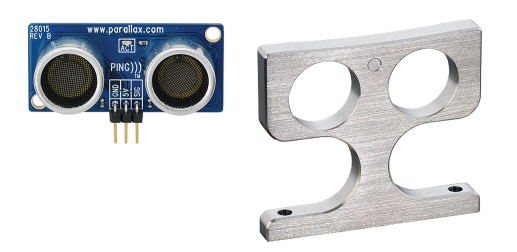 Confirm that you have the following components:
Contact sales@parallax.com if parts or components are missing.
The Arlo Complete Robot System includes:
(4) - Ping))) Sensor & Protector Stand Kits (#910-28015B)
Each of the (4) Ping))) Sensor & Protector Stand Kits includes the following components:
(1) - Ping))) Sensor (#28015)
(1) - Ping))) Protector Stand (#720-28002)
(1) - Light pipe (#720-280021)
(2) - 4-40 x ½" PH SS (#710-00006)
(2) - Nylon washers, size #4 (#700-00015)
(2) - Spacer, #4 x 1/4" (#713-00005)
You'll also need the following parts (included in the Hardware Pack for Arlo):
(8) – Screw, 6-32x1/2" Cap SS (#710-00033)
and
Clear glue capable of bonding acrylic to aluminum.
Step 30 - Light Pipe and Protector Stands
First, you may wish to make a note of the PING))) sensor pin connections labeled on the front of the PCB now. They will not be visible once the sensor is installed into the stand.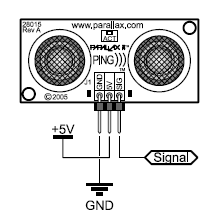 Install the Ping))) sensor to the aluminum stands as shown, using (2) ¼"thick nylon spacers, (2) 1/2" screws, and (2) nylon flat washers.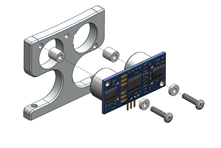 Place the Ping))) stand on a flat surface with the aluminum stand portion facing up.
Put a tiny dab of glue on the light pipe near the slightly fatter end.
Slide the light pipe into the hole on the front of the aluminum stand so that it just barely touches the Ping))). The light pipe will project a little from the front of the stand, but this is normal. It does not have to sit flush with the stand.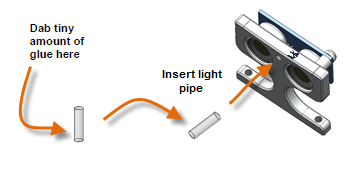 Important: Do not push the light pipe in further after you feel it touch the Ping))) – doing so could damage your Ping))) sensor!
Note: Some images and text from this assembly section were taken from the #725-28015 product guide.
Step 31 - Attach Ping)))s to Stands
Once all four Ping))) Sensors are assembled, mount them with socket head screws to the Arlo main deck. Route the wires as shown.
Note: You can use a few zip ties to help keep them neatly in place like shown in the photo below, but you may need more zip ties for this than were provided in the kit. This is optional, but we do recommend having additional zip ties on hand for future Arlo modification.
There are (4) Ping))) (three-wire) cables: 12", 12", 16" and 24". The remaining (2) 4" cables will be used in Section 7. The Ping))) sensor directly in front of the right drive wheel uses the 24" 3-wire cable. The center-front sensor cable is 16" in length, and the left-front sensor uses one of the 12" cables. The rear-facing sensor uses the other 12" cable.
Plug a 3-wire cable into each of the Ping))) sensor assemblies. Be sure that the black (ground) wire is on the left-hand side of the sensor, when viewed from the front of the sensor.
---
Source URL: https://learn.parallax.com/tutorials/robot/arlo/arlo-robot-assembly-guide/section-6-assembling-and-mounting-ping-sensors