---
Section 8 - Arlo Top Deck
Adding the Arlo Robot Top Deck is optional, but recommended. The top deck helps to protect the electrical components mounted on the base, and gives the Arlo a cleaner, sleeker appearance. The top deck comes with additional mounting holes that provide ample area to customize and personalize your Arlo Robot.
IMPORTANT! This step should be performed after you complete the electrical connections between your control board, Ping))) sensors, and DHB-10 Controller. Mounting the top plate will restrict access to those components. Go back to the last step and choose your board type for instructions on making those connections if you haven't done so already.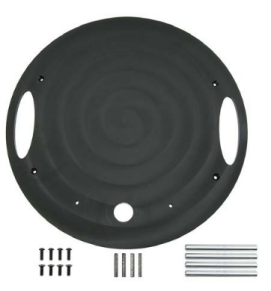 What you'll need:
(1) - Assembled Arlo with Control Components and Electrical Connections installed
(1) - Arlo Top Deck Kit (#28965), includes:

(1) - Top Deck (#765-28965)
(4) - ¼"-20 x ¾", flat-head, black, socket-head screw (#710-00034)
(4) - ¼"-20 x ¾", button-head, black, socket-head screw (#710-00105)
(4) - 5" x ½" dia. 1/4"-20 tapped machined standoffs (#713-00049)
(4) - ¼"-20 x 1.5" threaded stud (#720-28004)
Step 38 - Mount Top Deck
Using four button head screws, attach each of the four standoffs to the top of the Arlo base by using the four included #¼"-20 x 5/8" button-head screws. Insert screws from the bottom up into the standoffs as shown.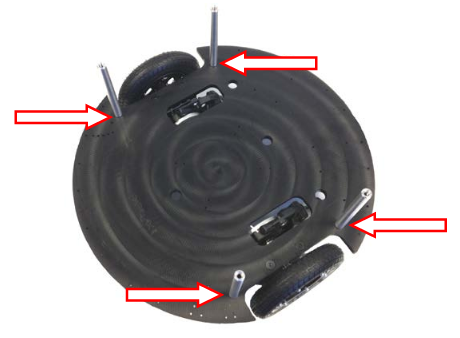 Place the top deck onto the standoffs, making sure that the counter-sunk holes are face-up. Secure the deck with the four included ¼"- 20 x 5/8" flat-head screws.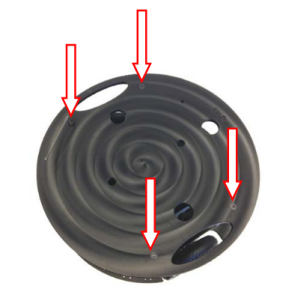 (Optional) If you wish to add a second top deck (sold separately), simply replace the four flat head screws with the included 1.5" x ¼"- 20 all-thread studs. Next, place the additional deck onto those studs, and then screw on the next set of standoffs. Place the second top deck onto that level and secure with four flat head ¼" x 20 screws.
This completes the Arlo mechanical assembly.
---
Source URL: https://learn.parallax.com/tutorials/robot/arlo/arlo-robot-assembly-guide/section-8-arlo-top-deck