---
Sony Remote
BlocklyProp reference for SONY REMOTE block





Compatible with all Propeller board types

Use this block with a Sony protocol Infrared Remote (#020-00001) [1] and infrared receiver (#350-00039)
New to this sensor? Click here to see an example schematic and quick Blockly program [2] to help you get started.
---
Sony Remote value

The Sony Remote value block returns a value detected by the IR receiver that indicated which button on the remote was pressed. If no button press was detected, this block provides a value of -1.
The PIN menu this block can be set to "other." When "other" is chosen, the drop-down menu disappears, and it is replaced with an input. You can then use any block that provides a numeric value such as a number value, get variable, or constant value block:

IR Remote Wiring & Example Code
An IR receiver can detect bursts of infrared light sent by a common remote controller (like for a television), and then output a pattern of high/low signals to a Propeller I/O pin.
Wiring Diagram & Connections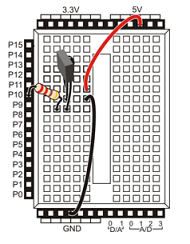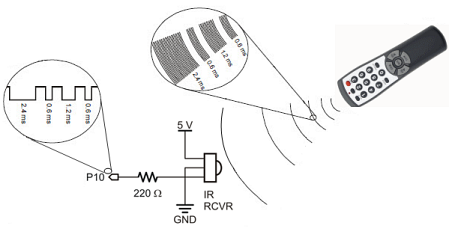 Configure your remote for the Sony protocol, following its manufacturer instructions. (If you purchased the Brightstar brand remote from Parallax, hold the Setup button until the light near it comes on. Enter 6-0-5 and the light should go off. Done!)
Quick Example Code
Using the connections shown in the wiring diagram above, this example displays the number of the button pressed on your remote in the Terminal. When no button is pressed, the Sony Remote value block sends a -1, and the message Button press = none will appear in the Terminal.
---
Source URL: https://learn.parallax.com/support/reference/propeller-blocklyprop-block-reference/sensor/sony-remote
Links
[1] https://www.parallax.com/product/020-00001
[2] https://learn.parallax.com/support/reference/activity-board-wx-block-reference/sensor/sony-remote/ir-remote-wiring-example-code