---
Add a Pixy2 CMUcam to an ActivityBot 360°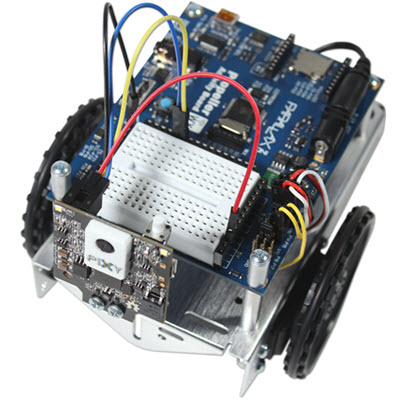 What it's about
This short tutorial will show you how to mount a Pixy2 CMUcam to an ActivityBot 360°.
Before you start
You will need:
After you finish
Your ActivityBot 360° will be equipped to try out the BlocklyProp, Propeller C, or Spin code examples for the Pixy2 CMUcam.
Pixy2 with Mounting Hardware Parts
The Pixy2 CMUcam w/ Cable + Mounting Hardware kit comes with the following parts. Make sure you have everything:
(1) - Pixy2 Camera with ribbon cable (in camera box; #30027)
(1) - Screw, #4-40 x 3/8" panhead (#700-00002)
(4) - Screw, #4-40 x 1/4", panhead (#700-00028)
(4) - Nut, #4-40 (#700-00003)
(1) - Locknut, #4-40, 1/4" (#700-00024)
(10 wires) - Jumper wires, MF, 100 mm (#800-00063)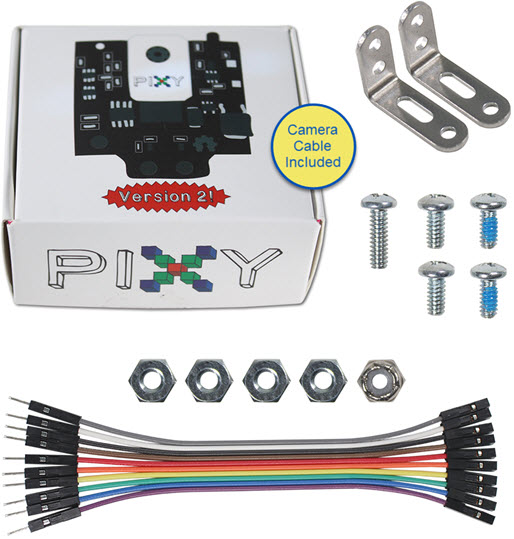 From your ActivityBot 360° kit you will also need a Parallax screwdriver (#700-00064) or other #1 Philips screwdriver, and the Parallax Combination Wrench (#713-00007) or other #4 hex wrench.

Mount the Pixy2 on the ActivityBot 360°
Connect an 'L' bracket into the front of the ActivityBot 360° chassis, using two 1/4" screws and two nuts, as shown. Note that it is slightly off center. This will allow the Pixy2 camera to be centered, after accounting for the thickness of the 'L' brackets.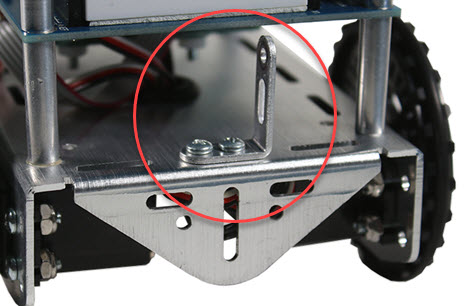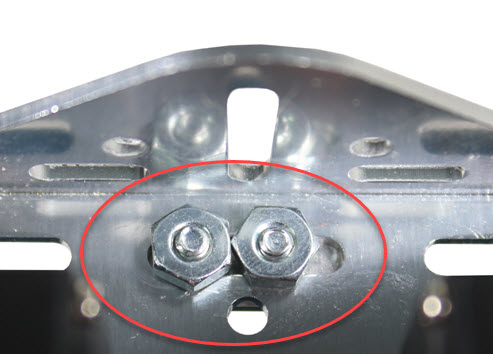 Connect an 'L' bracket to the Pixy2 board, using the two 14" screws included in the camera box, and two nuts.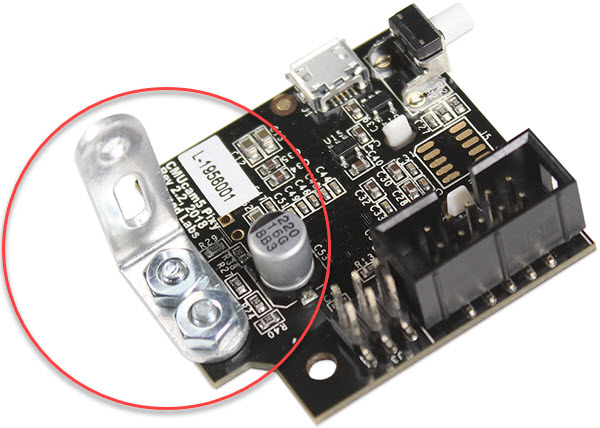 Connect the two 'L' brackets together, using the longer 3/8" screw and Nylon-core locknut.
You will be able to adjust the tilt of the Pixy2 camera up or down, depending on the needs of the application. If the camera tilts down on its own, just tighten the screw and locknut connecting the 'L' brackets together.
Make the Pixy2 Connections
Camera Connections
Peel apart the 100 mm MF jumper wires and make the connections between the Pixy2 module and your Propeller Activity Board WX as shown below. Note that you must leave the 5 VDC wire disconnected if you have your Pixy2 module's USB port connected to a computer.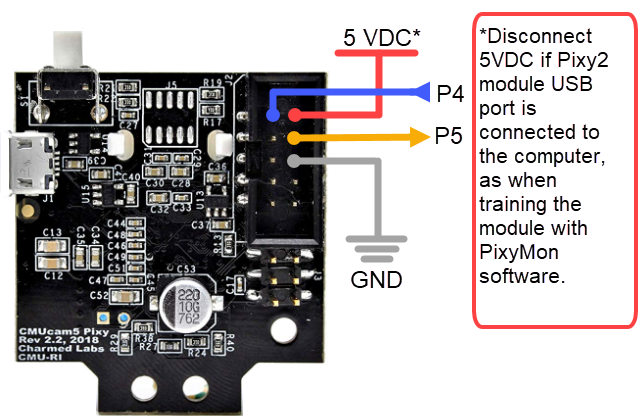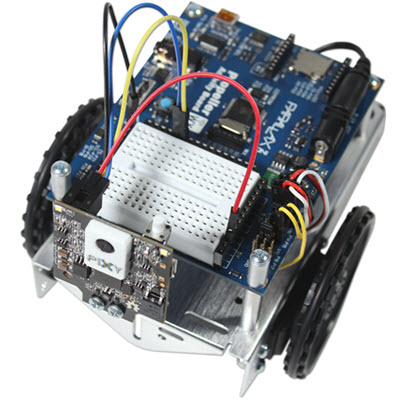 Pixy2 Propeller Example Code
Now your ActivityBot 360° is ready to run the Pixy2 test code available in BlocklyProp, Propeller C, or Spin language:
Pixy2 CMUcam Demo Code Downloads [3]
Pixy2 Guides & Resources
The Pixy2 module needs to be trained to recognize the objects you want it to detect when you are running your Propeller program. For guides on how to train your Pixy2 using the PixyMon software, see the official Pixy2 Index at pixycam.com.
---
Source URL: https://learn.parallax.com/tutorials/robot/activitybot/add-pixy2-cmucam-activitybot-360%C2%B0
Links
[1] https://www.parallax.com/product/32600
[2] https://www.parallax.com/product/30028
[3] https://www.parallax.com/package/pixy2-cmucam-demo-code/
[4] https://docs.pixycam.com/wiki/doku.php?id=wiki:v2:start