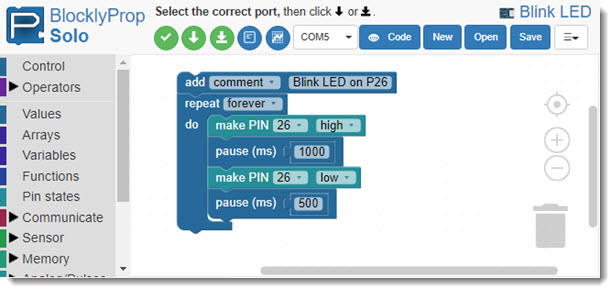 What it's about
BlocklyProp Solo is a visual online programming tool. It works with robots and development boards that have a Propeller 1 Multicore Microcontroller brain, such as the ActivityBot 360° and Propeller FLiP module.
BlocklyProp lets you build Propeller programs graphically, piece by piece. Specialized blocks support sensors, servo motors, displays, and more, making it quick and easy to learn programming for new hardware and create complex projects.
What you need to get started
A Windows, Mac, or Chromebook computer with a USB 2.0 compatible port
Permission to install BlocklyProp Launcher software (*Schools may need IT assistance)
Chrome browser (Explorer and Edge are not supported)
A Propeller board with its USB programming cable, such as:
NEED HELP? Email support@parallax.com. Teachers can call the Educator Hotline (916) 701-8625.

*The Launcher allows a USB connection for downloading code to your Propeller board. BlocklyProp Solo and the Launcher do not require any login, and do not collect any user data at all.