LEVEL: Intermediate
SKILLS REQUIRED: Spin Programming
HOURS TO COMPLETE: 2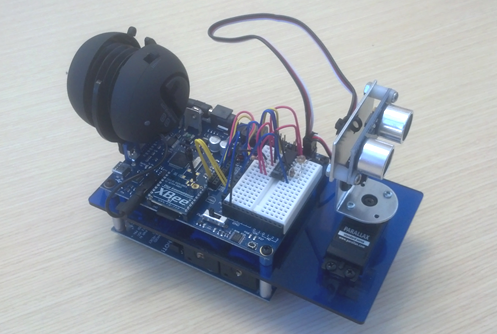 The XBee 802.15.4 to PC Demo provides an example of communication between any Series 1 XBee Module and the PC, using the XStick 802.15.4 (Parallax #28186). This demo is a modified version of the RN-42 Bluetooth to PC Demo using the same components except the radio transceiver.
The demo provides a two-way communication channel for a remote device which has two functions: one is to send system telemetry from on-board sensors, the other is to receive and act upon known commands from a remote serial terminal or command interface; in this case a PC.
While this demo application is small, it represents a scalable real-world application where you might be receiving weather or sensor telemetry from a farm or industrial control system and need to be able to then send commands to such a system, perhaps to open or close a valve in response to data received.
What's Required:
(1) Propeller Board of Education (#32900)
(1) Any Series 1 XBee Module (#32405 used in this demo)
(1) XStick 802.15.4 (#28186)
(1) ADC0831 8-bit A/D Converter (#ADC0831)
(1) DS1620 Digital Thermometer (#604-00002)
(1) PING))) Ultrasonic Sensor + Mounting Bracket (#910-28015A)
(1) Photoresistor (#350-00009)
(1) 10K ohm, ¼ W Resistor (#150-01030)
(1) 4.7K ohm, ¼ W Resistor (#150-04720)
(1) Li-ion Power Pack Charger (#28986)
(2) High-Capacity Li-ion Cell (#28987)
(1) Veho 360 Speaker (#900-00018)
(1) Veho Speaker Stand for Propeller BOE (#725-32900)
(1) 1 GB microSD Card (#32318)
Connecting wires
USB Adapter for connecting microSD card to PC and load WAV files
Mounting plate or chassis for PING))) Mounting Bracket and PCB