The Propeller Activity Board
Do more with eight cores. Harnessing the power of the 8-core Propeller microcontroller is now easier than ever before! With built-in sockets and pre-written C libraries, Parallax provides the resources for you to bring your project from idea to reality.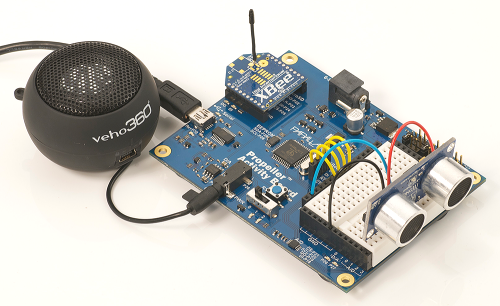 The Propeller Activity Board gives you direct access to the most popular Propeller peripherals:
XBee socket — control or receive data from your invention wirelessly
microSD card holder — log sensor data or add WAV files
Mini audio/stereo jack — listen to those WAV files or synthesized speech
3-pin headers — quickly connect to servos, serial LCDs, etc.
Breadboard — build and rebuild circuits without soldering (or desoldering!)
A/D and D/A converters — read or set the voltage your project needs
USB or power supply — the choice is yours
Explore the Propeller C Tutorials and see just how easy it is to digitize your creativity.