The cyber:bot robot's drive motors are called Continuous Rotation Servos. If you received your robot preassembled, these servos might need to be re-centered before moving on to navigation activities.
If you just followed the directions in the Build your cyber:bot tutorial, you will have already centered your servos, and you can skip to the next page: Servo Direction
If you were just given an assembled cyber:bot to use, the servos might need to be re-centered. Use the test below to find out.
Test if the servos are centered
Before running this test, double check the battery and servo connections.
Make sure that the:

Servos are plugged into the servo ports
Battery pack is loaded with batteries
Battery pack is plugged into the cyber:bot board
The jumper is set for the type of batteries you are using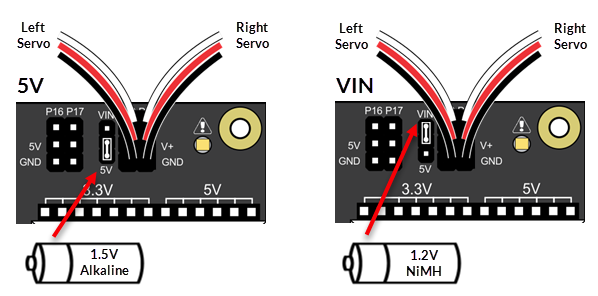 Set the 3-position switch on the cyber:bot board to Position 1.
Make sure the cyberbot.py module is added to the Project Files (see Add modules to your micro:bit).
Enter and save both_servos_stay_still.py.
Make sure to include the line

from cyberbot import *

.
Flash both_servos_stay_still.py into your micro:bit.
# both_servos_stay_still.py

from cyberbot import *
 
bot(18).servo_speed(0)
bot(19).servo_speed(0)

If a servo has not yet been centered, or if its center setting has drifted, it might turn, vibrate, or make a humming noise when your script tells it to stay still.
Set the cyber:bot robot's PWR switch to 2, to provide power to the servos.
If both servos stay still, it means they are both centered, and you can skip to the next page: Servo Direction.
Any servo that hums, vibrates, or turns in response to this test will need to be re-centered by following the instructions below.
If one or both servos need to be re-centered:
Tools You Might Need
If the Procedure checklist says to remove the servo from the cassis, use these tools that come in the cyber:bot Robot kit:
(1) Parallax screwdriver, or a different Phillips #1 point screwdriver with a 1/8″ (3.18 mm) or smaller shaft.
(1) Parallax Combination Wrench (#700-10025), or a 1/4" combination wrench.

Procedure
Check the part of the servo case where the 3-wire cable comes out. There should be a small round access hole very close to it.
If that access hole is close to the battery pack, the servo will need to be disconnected from the chassis.

Unscrew the screw in the center of the wheel.
Pull the wheel away from the servo to pull it off the output shaft.
Unscrew the four screws/nuts that hold the servo to the chassis.

If the access hole is instead closer to the front of the cyber:bot, the servo will not need to be disconnected.
Complete the Are the Servos Centered? activity, and come back here when you're done (and then continue to the next page).
---