The directions below will guide you through building whisker switch circuits on your cyber:bot. The whisker switch wires connect to posts on the front corners of the robot.
Put the cyber:bot board's power switch in position 0.
Check to make sure the posts are already installed on your robot. If they are not, install them now using the parts list and picture below.

(2) 7/8″ pan head 4-40 Phillips screws
(2) ½″ round spacer
(2) Nylon washers, size #4

Loosen the post screws slightly and slip the hooked end of a whisker wire around each one. The whisker must go below the washer on one side, and above the washer on the other side.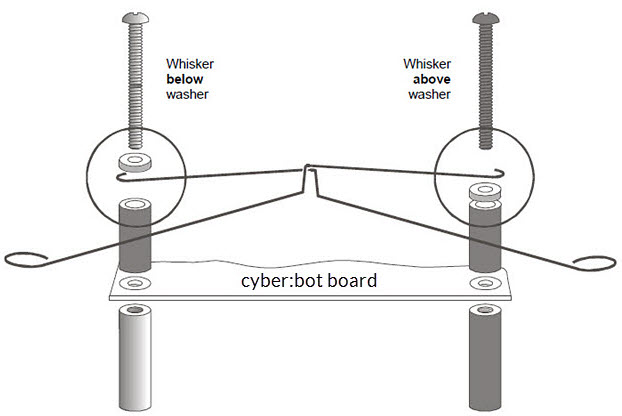 Use the following parts to build the rest of the switch circuitry on the breadboard as shown below.

(2) 3-pin m/m headers
(2) resistors, 220 Ω (red-red-brown)
(2) resistors, 10 kΩ (brown-black-orange)
(misc) jumper wires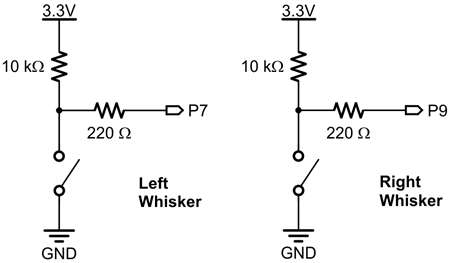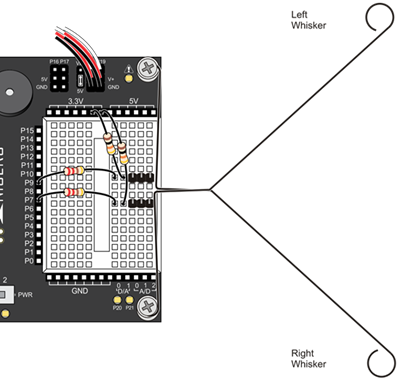 Double-check your connections:

220 Ω resistors (red‑red-brown) connect digital pins 7 and 9 to their corresponding 3-pin headers.
10 kΩ resistors (brown-black-orange) connect 3.3 V to each 3-pin header.
Make sure to adjust each whisker so that it is close to, but not touching, the 3-pin header on the breadboard. A distance of about 1/8″ (3 mm) is about right.