FeiyuTech MiNi 2D Gimbal & Camera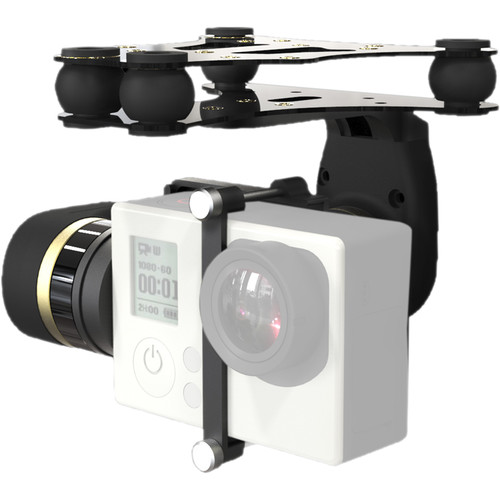 The gimbal is available from the manufacturer and many online retailers, including B&H Photo & Video. In addition to the FeiyuTech MiNi 2D Gimbal itself, you'll need some other parts to mount it to your ELEV-8 v3 Quadcopter.
It is designed for a GoPro Hero 3, 3+, or 4 camera. Much less expensive cameras with similar form-factors are available, including the SJCAM SJ4000 Action Camera.
Hardware
To install the gimbal, you will need some additional hardware, and connectors. You will need hardware for one of the three options for the "Replacing the Power Connector" step - see that step for details.
Machine Screw, #4-40 x ½", Steel, Pan-Head or Socket-Cap Head (McMaster-Carr #90272A110)
Unthreaded Spacer, #4-40 x 3/16", Nylon (⅛" length and/or aluminum material can work in a pinch) (McMaster-Carr #94639A200)
Nylon-Insert Locknut, #4-40, Steel (McMaster-Carr #90631A005)
Cable Tie, Narrow 4" (McMaster-Carr #7130K52)
[for Replacing the Power Connector - Option 1] JR Connector 3-Pack, Female (Pololu # 1924)
[for Replacing the Power Connector - Option 2] 3-Wire Servo Extension Cable (Parallax #800-00060)
[for Replacing the Power Connector - Option 3] Female JST RCY to male JR cable (such as Electronic Model Systems #0151)
[for Replacing the Power Connector - Option 3] Female to female 3-wire extension cable w/ JR connector (Parallax #800-00043)
Tools