Mounting a Camera Gimbal to the ELEV-8 v3
Want to capture some sweet aerial photos or videos with your ELEV-8 v3? This tutorial will show you how to install a two-axis brushless camera gimbal. This intermediate tutorial will require individual components from 3rd party vendors and may require fabrication of a mounting plate and soldering. We've provided instructions for two different gimbals, so you will first need to decide which will best suit your needs.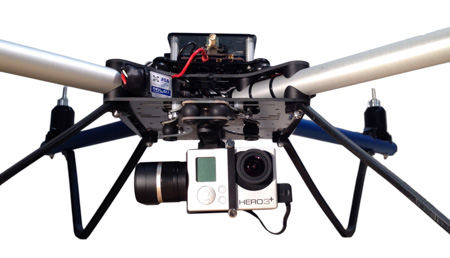 This slick gimbal simply bolts to the underside of your ELEV-8 v3, so it can be easily removed, though you may have to intially remove the bottom chassis plate to orient it correctly. It can supply power to GoPro cameras and relay back a video feed. It comes ready-to-use out of the box, so no calibration is necessary. The FeiyuTech offers moderate vibration isolation.
The ELEV-8 v3 Bottom Chassis Plate has been designed to integrate with the Tarot T-2D Gimbal to provide a compact video and image stabilization solution. Though it is slightly more complex to mount, configure, and remove than the FeiyuTech Gimbal, it provides better vibration isolation. It also requires firmware configuration with software currently only available for Microsoft Windows XP and 7, and you will need to be able to fabricate an adapter plate yourself in order to mount it.