BlocklyProp is migrating from the original community system that requires a login for each user, to BlocklyProp Solo where no login is required. The original BlocklyProp stores users' projects on a remote server, but BlocklyProp Solo stores users' projects on their own local file systems.
The Bulk Project Download feature lets you download a copy of all of your remotely stored projects in your account to your local file system. These files will be in the .svge format, and can be opened with BlocklyProp Solo.
How to Bulk Download your Projects

Click on the Download My Projects button.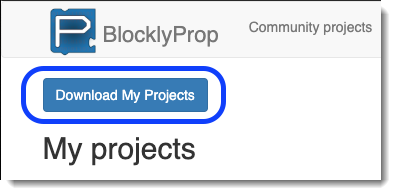 You will see the message on the button change as the system creates an archive file, named BlocklyPropProjects.zip, that contains your individual projects.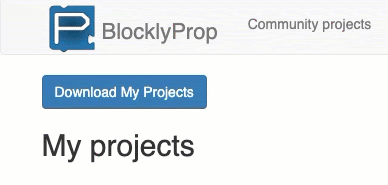 If your browser asks you where you would like to store the archive file, follow the prompts to select a location on your local file system. The project archive will be downloaded to your chosen (or default) folder.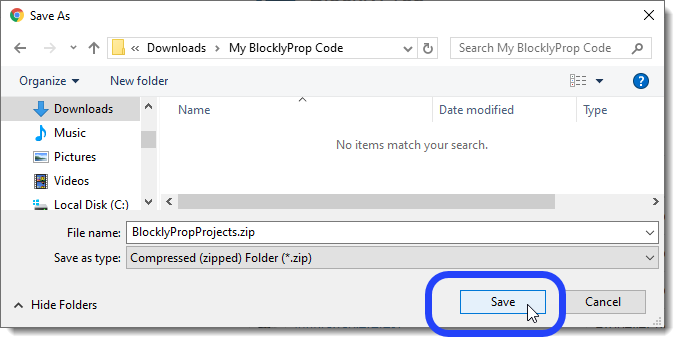 Un-zip the archive folder before trying to use the files, if using Windows: right-click and choose Extract All.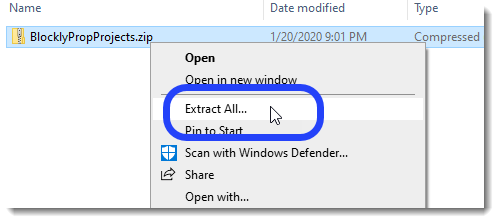 Inside the Archive
The project archive folder contains a number of individual project files, each with an .svge file extension. The archiving utility named each file using the first 30 characters of a project's name and also the project's number.


Excluded Projects
The archive folder also contains a ExcludedProject.txt file with a list of any projects that could not be exported. These excluded files are either empty or contain very old, unsupported blocks.
To follow up on excluded projects:
In the original BlocklyProp site, open the project. To get to a project quickly, use the URL below and replace the zero on the end with a project number.
http://blockly.parallax.com/blockly/my/projects.jsp#0
Add and delete a

comment

block anywhere within the project.
Save the project. This will convert any outdated blocks to newer versions of the block.
Use the Downloads blocks file option from the hamburger menu to save the project as an individual .svg file. Or, if you have a bunch of them, you can re-run the bulk download utility again.
Using the .svge Files
The .svge files in your project archive can only be used with BlocklyProp Solo. To use a file:
In your browser, open the BlocklyProp Solo site: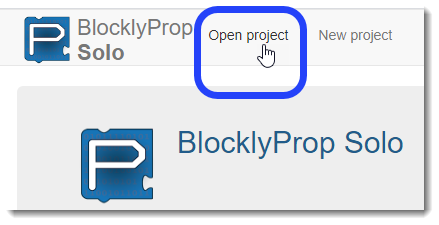 Click the Choose File button.

Navigate to your un-zipped project archive folder, select a project, and click Open.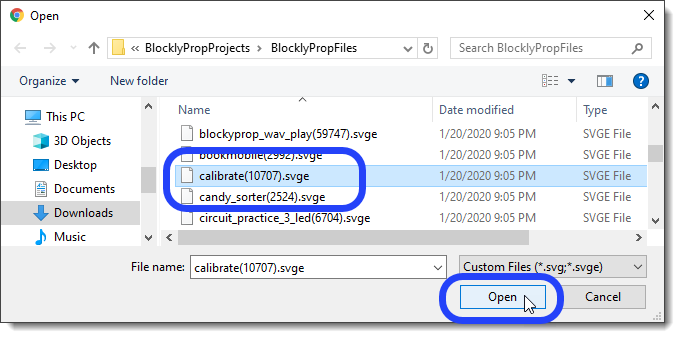 Back in Solo, click Open, and the project will open in the editor pane.

Now your project is ready to use. When you are ready to save your edited project, it will be saved on your local system as an.svg file.
SVGE is for SOLO. Note that archive .svge files only work in BlocklyProp Solo. They differ from the .svg files in that they do not contain the visual block graphics.