Before you start the mechanical assembly process for your Arlo robot, read through this pre-build section. Let's make sure you are fully prepared and not missing any components from your kit. In case of missing parts, please contact our sales department: 888-512-1024 within USA / 916-624-8333 outside of US, or email to sales@parallax.com.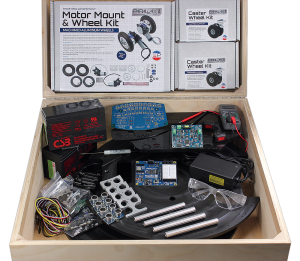 Caution! The Arlo Robot system utilizes precision-machined components that are designed to go together in a very orderly and precise manner – resist the temptation to jump-ahead. Going slow and steady will produce a reliable and expandable platform that can act as a test-bed for some amazing robotic applications.
Warning! Be very careful when you reach the point where you're connecting the power source (batteries) to the Arlo System – correct polarity is VERY important! The 12V Sealed Lead Acid batteries (the ones that we recommend, and that are included in the Arlo Complete Robot System) have a very high discharge current capability. Connecting them prematurely or incorrectly can result in damaged components, "magic smoke" release, or overheating of the batteries themselves. With great capacity, comes great responsibility!

Assumptions:
This assembly guide assumes that your Arlo Robot will be controlled by a Parallax Propeller Activity Board and the Parallax DHB-10 Dual H-Bridge motor controller (both of which are included in the Arlo Robot Full Kit). Of course, you may use any processor or motor controllers you wish, but you will have to make the necessary adjustments during your build process. Instructions for making electrical connections to the BASIC Stamp Board of Education and Board of Education Shield for Arduino are also included in this assembly guide.
This guide assumes that you know how to use basic tools, such as wire cutters, crimpers, and soldering irons.
Arlo System contents:
The Arlo Complete Robot System is comprised of the following individual kits and items. Please note that the Arlo Full Kit Hardware Pack contents are listed here, but the other subpack contents will be listed in the section they are used:
(1) - Arlo Robot Base Kit (#28960)
(2) - Caster Wheel Kits, Rev B. (#28961)
(1) - Motor Mount and Wheel Kit - AL (#28962)
(1) - Arlo Robot Top Deck Kit (#28965)
(1) - Arlo Power Distribution System (#28996 Rev.B)
(1) - Propeller Activity Board WX (#32912)
(1) - Arlo Battery Charger w/ 2.5mm plug (#700-00240), or Arlo Smart Battery Charger w/ 2.1mm plug (#700-000245)

Your package insert (BOM + safety warning sheet) will list which of the two chargers above is included in your kit.

(1) - Pair of Safety Glasses (#700-10003)
(1) - DVM810 Multimeter (#700-10026)
(2) - 12v 7.5Ah Sealed Lead Acid Batteries (#752-00007)
(4) - Ping))) Sensors w/stand (#910-28015B)
(1) - DHB-10 Motor Controller + Prop Plug w/ programming cable (#910-28231)
(1) - Arlo Full Kit Hardware Pack (#570-28966)

(6) – Terminal Receptacle .250 Crimp (#400-00105)
(2) – Zip Tie, Anchor, Black (#700-00054)
(16) – Foot, clear (#700-00087)
(8) – Zip Tie, 4" Black (#700-00093)
(8) – Screw,#6-32x1/2",Cap,SS (#710-00033)
(8) – Screw,#4-40x5/8",PH,Black (#710-00035)
(8) – Screw,#4-40x1/4",PH,Black (#710-00100)
(8) – Standoff,4-40x5/8",FF,Rnd,AL (#713-00001)
(4) – Standoff,4-40x1.25",FF,Rnd,AL (#713-00002)
(3) – Wire, 14 AWG, Black (#750-00050)
(3) – Wire, 14 AWG, Yellow (#750-00053)
(1) – 5-AA Battery Holder w/ Barrel Jack (#753-00007)
(2) – 3-wire F/F cable, 4" (#800-00040)
(2) – 3-wire F/F cable, 12" (#800-00120)
(1) – 3-wire F/F cable, 16" (#800-00160)
(1) – 3-wire F/F cable, 24" (#800-00240)
Additional Items You Will Need:
A clean table with a non-metallic work surface (cardboard or a sheet of plywood work well)
Soldering iron and solder
Small rubber hammer or mallet
Small pair of needle-nose pliers
Small pair of diagonal cutters
Wire stripper tool
Wire crimp tool
Clear glue capable of bonding acrylic to aluminum.
All other necessary tools are included in the Arlo Complete Robot System package.
Important! Safety glasses were included in your Arlo Complete kit. Put them on now before you begin, and make sure to wear them through the entire assembly process!