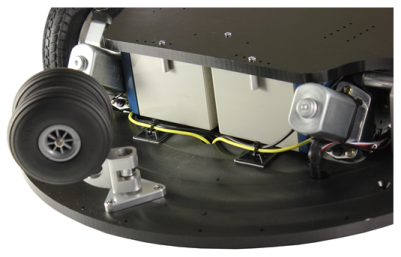 The Battery Tray serves multiple purposes:
The tray holds either one or two SLA batteries (or custom power systems of your own design).
It adds the necessary rigidity to the structure of the Arlo Robot Base platform.
With the two SLA batteries installed, the battery tray provides a very low—and centered—center of gravity. This results in a very stable mobile robotic system, especially when you make it taller by adding Arlo Top Deck(s) (#28965) or your own additional upper-body structures.
Even if you don't mount your batteries on the tray, you should still attach the tray to the platform. The tray - with or without batteries - provides significant structural strength and stability to the entire system if installed.
You should still have the following components that were included in the Arlo Base Kit package (put aside in Step 17):
(1) - Double Battery Shelf (#765-00003)
(4) - ¼"-20 x ¾", Flat-head socket-head screws (#710-00034)
(6) - #4-40 x 5/8" Pan-head screw (#710-00035)
(6) - #4-40 x 5/8" Round Aluminum Standoff (#713-00001)
Also confirm you have the following components that were included in the Arlo Kit and Hardware Pack for Arlo:
(2) - Battery, 12V, 7.2 Ah, SLA (Sealed Lead Acid Battery) (#752-00007)
(16) - Square rubber feet (#700-00087)
(3) – Wire, 14 AWG, Black (#750-00050)
(3) – Wire, 14 AWG, Yellow (#750-00053)
(6) – Terminal Receptacle .250 Crimp (#400-00105)
Additional Items You Will Need:
Wire strippers
Wire crimp tool