Congratulations and thank you for purchasing a Parallax ELEV-8 v3 Quadcopter, designed and manufactured in California, USA. If you require assistance, please do not hesitate to e-mail or call us.
These instructions are for the Parallax ELEV-8 v3 Quadcopter (#80300) in its standard configuration. (If you have the ELEV-8 v2, go to the v2 Assembly Guide instead.) To work offline or from paper, Click on the "Printer-Friendly Version" link at the bottom-right corner of this page (it may take several minutes to load). Be advised it's around 100 pages when printed.
If you have an ELEV-8 Quadcopter you must register it with the Federal Aviation Administration's UAS Registry before flying outdoors.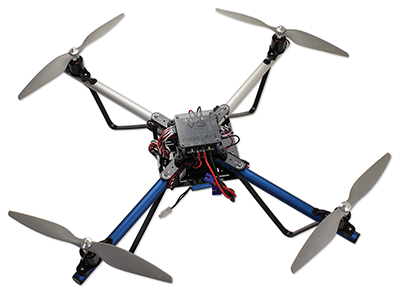 Preparation
This guide will take you through assembly and configuration of your ELEV-8 v3 Quadcopter Kit. But first, go through the Preparation list below. Please do not rush through the assembly and testing process! Go slowly and don't skip anything, to avoid a dysfunctional quadcopter and extensive troubleshooting. It never hurts to double-check your work at each step!
Read both sides of the ELEV-8 v3 Package Insert included with your kit. Please pay close attention when reading all of the important safety and liability information; building a Quadcopter is a rewarding but potentially dangerous undertaking, so it is critical that you have an understanding of the risks involved to maximize enjoyment and minimize danger.
Carefully cross-check the contents of your kit with the insert's Bill of Materials. If you are missing anything, email sales@parallax.com or call our Sales folks (888-512-1024). Note that some items are small sub-kits with parts not listed separately. (Also, parts and quantities are subject to change without notice).
BEFORE beginning assembly of your ELEV-8 v3 Quadcopter, please read the entirety of the UAV Safety, Laws, and Good Citizenship tutorial. It will only take about 30 miniutes and will help keep you & your ELEV-8 safe and out of trouble.
Read through the entire assembly guide before beginning, so you know what to expect. Assembly and testing takes about 5 to 10 hours, depending on your skill level, tools, experience, and workspace.
Gather up your kit, necessary tools, and the Additional Items Required (below), and take them to a roomy, well-lit and comfortable work area.
After educating yourself on the safe and proper use of Lithium-Polymer (LiPo) batteries, charge your LiPo battery.
BEFORE beginning assembly of your ELEV-8 v3 Quadcopter, please read the entirety of the UAV Safety, Laws, and Good Citizenship guide. The owner, operator, and pilot of every ELEV-8 v3 are to abide by all laws, regulations, and guidelines, including, but not limited to, those detailed in the aforementioned document. Reading and abiding by the entire UAV Safety, Laws, and Good Citizenship document could help prevent property damage, personal injury, prosecution, and fines.
Additional Items Required
These items are required for ELEV-8 v3 Quadcopter flight and are NOT included in your basic kit.
Radio Control Transmitter and Receiver; 5-channel minimum required for flight. We recommend the Spektrum DX6 transmitter and Spektrum AR610 receiver, providing one extra channel for simple projects. If you anticipate building complex applications in the future, consider the Spektrum DX7 or DX8 and Spektrum AR8000 receiver.
An 11.1 (3-Cell) Lithium Polymer (LiPo), with at least 3000 mAh capacity, 25C discharge rate, and an EC3 connector. Parallax's 3300 mAh LiPo battery and 5300 mAh LiPo battery are well suited for your ELEV-8 v3.
A LiPo Balance Charger for recharging your quadcopter's battery. Only use a charger with balance capabilities and designed for LiPo batteries; others can cause the battery to flame and release toxic smoke.
A Windows 7/8 computer (not RT) with an available USB port, for the Ground Station software.
A USB A to Micro B cable, for connecting your ELEV-8 Flight Controller to your computer.
We also recommend the ELEV-8 Crash Pack (#80380). Crashes are an inevitable part of the learning process, and having to wait around for replacement parts is always a bummer.
Additional Tools Required
Paper Towels or other disposable work surface/wipes
Needle-Nose Pliers (optional)
Book or Box approximately 1 ¼" tall, slightly larger than the top chassis plate
Removable Tape
Permanent Marker (or Paint Pen)
Small Flat-Head Screwdriver (optional)
Loctite and 242 are trademarks or registered trademarks of Henkel Corporation, U.S.A. Spektrum is a trademark or registered trademark of Horizon Hobby, Inc. and Bachmann Industries, Inc.