Parts:
(1) SumoBot, built up at least through the end of the Add Cables for Front QTI Sensors page
(2) QTI line sensors
(2) #4-40 1/2" long pan-head machine screws
(2) 1/8" Nylon spacer
(2) 1/16" Nylon spacer
Procedure
Position the parts on each screw in this order:
QTI with parts facing the same direction as the screw's head
1/16" nylon washer
1/8" nylon washer.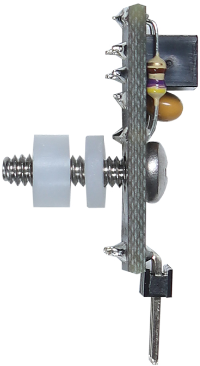 Connect each screw (with its QTI and washers) to a front standoff (by the plow).
Make sure the pins of each QTI point inward -toward the slot where you just inserted the cables.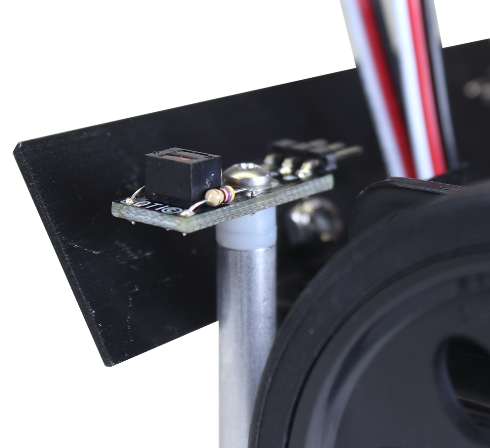 Connect the cables you fed through the chassis to each QTI.
Make sure that each cable's:

White wire is connected to the QTI's W pin
Red wire is connected to the QTI's R pin
Black wire is connected to the QTI's B pin

Set the SumoBot face down on the table with its underside facing toward you, and identify the left and right QTIs.
Follow the cable from the left QTI to its other end, and mark it L with masking tape.
Repeat for the right cable.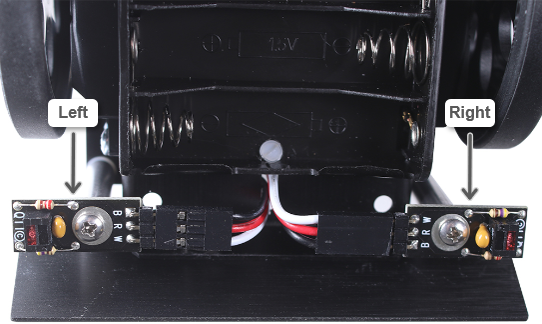 Connect the QTI marked L to the P13 header and the QTI marked R to the P14 header.
Make sure each cable's:

Black wire is connect to the pin labeled GND
Red wire is connected to the pin with a label that begins with P (like P13 and P14).
White wire is connected to the pin labeled 5V.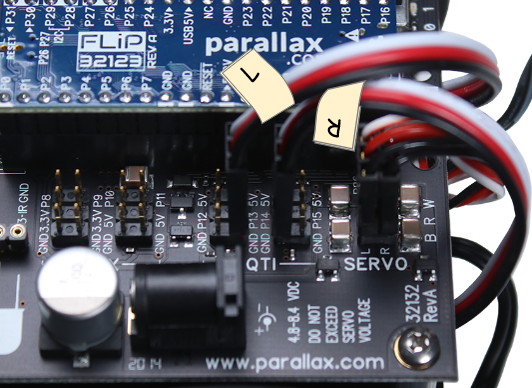 Remove the L and R labels from the QTI cables.
Put the batteries back into the battery holder.
Connect the battery power plug to the barrel jack.