Candy Sorter Parts List
(2) Parallax Standard Servos**
(5) AA batteries
Heavy-duty corrugated cardboard
Box knife
Hot glue gun & glue, or very strong tape
Small bright candies such as Skittles or M&M's
Paper cups
*Items are in the BlocklyProp Starter Kit. ** The BlocklyProp Starter Kit has just one servo, get another servo here.
Propeller I/O Pin Connections
P15 ColorPal Sensor
P16 - Parallax Standard Servo controlling bottom chute
P17 - Parallax Standard Servo lifting sensor in top chute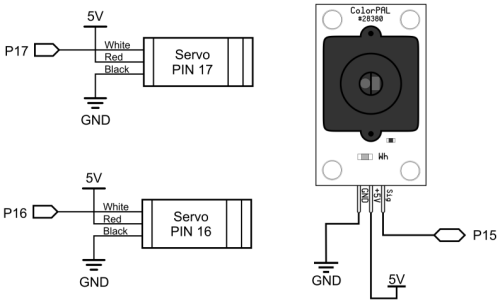 With cardboard, hot glue, and your own ingenuity, build the base structure, with angled top and bottom chutes angled to let the candies slide freely. The image below is a guide, but there are many possible solutions.
Remove the servo horn from the top servo, glue the ColorPAL sensor to it, and then re-attach the horn.
Make sure the jumpers are set to 5V between the servo port pins on the Propeller Activity Board WX.
Connect the servos, ColorPAL sensor, and battery pack to the Propeller Activity Board. Then plug the Activity Board into your computer's USB port.
CAUTION! Don't try to run this project off of your computer's USB power alone - use the battery pack too. The servos can take quite a bit of current when they move, and may exceed the amount of current that your USB port can supply.