About SimpleIDE
SimpleIDE is an open source programming tool for Propeller C. It's designed to be easy for beginners to use, yet also includes features that experienced programmers will appreciate.
This quick tutorial will help you:
Set up the latest version of SimpleIDE for your operating system
Get the latest Propeller C Tutorials libraries and example programs
Click on your system to get started
For platform-specific version information, click here.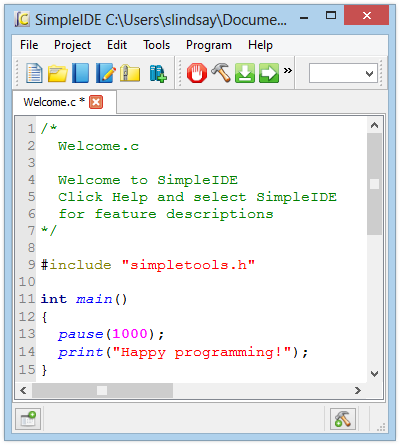 ---
Notice for High School and University Information Technology Staff
SimpleIDE is the official programming interface for Parallax's Propeller C Educational program. Like many modern software programs, SimpleIDE is an open source offering. Parallax maintains an official distribution branch of the project to be released as Parallax approved software on this website. Parallax strives to keep the features and functions of this distribution of SimpleIDE in-line with the needs of educational institutions to provide a consistent and trustworthy user experience. SimpleIDE installers are available for Windows, Mac and Linux operating systems.

No approval is required from Parallax to install the SimpleIDE software on your institution's computers. In fact, this is the intended audience for SimpleIDE. Please feel free to contact our educational team if you need any further verification on the subject.
---
MIT License
The C libraries for the Propeller C Tutorial program are offered under the MIT License.
---
Open Source Software Projects
Links for the two open-source software projects that make up the foundation of the Propeller C Tutorials are available below.
---