Servos are a special type of motor. They come in two different types: standard and continuous rotation. Standard servos rotate to a specific point (and stay there) based on the input signal. These types are widely used in radio controlled (RC) applications. For the Boe-Bot drive wheels, we're using the continuous type.
Continuous rotation servos need be calibrated or "centered". If a servo has not yet been centered, it may turn, vibrate, or make a humming noise when it receives the "stay-still" signal from the microcontroller.
You will use a small Phillips screwdriver to adjust the servos so that they actually stay still while receiving the "stay-still" signal from the BASIC Stamp microcontroller. We call this centering the servos.
You'll need the Phillips screwdriver that came with your Boe-Bot kit (Phillips with a 1/8 inch (3.18 mm) or smaller shaft).

Launch the BASIC Stamp Editor that you installed earlier on your PC.
Connect the USB cable from your computer to the control board.
Place your Boe-Bot up on top of a small box or block so that the wheels are off the ground, and can freely spin without moving the bot.
Set the power switch to position "2". This will provide power to the circuit board and to the servos.

Load the program entitled "center servos" into the BASIC Stamp Editor. You should see a short program that looks like this:
DO
  speedLeft = 0
  speedRight = 0
  time = 30000
  GOSUB Wheel_Speeds
LOOP
Click on the Run icon to send this program down into the BASIC Stamp.

Your Boe-Bot may start spinning one or both wheels, in either direction.
Using the small Phillips screwdriver, adjust the screw on the front of each of the servos so that they come to a complete stop.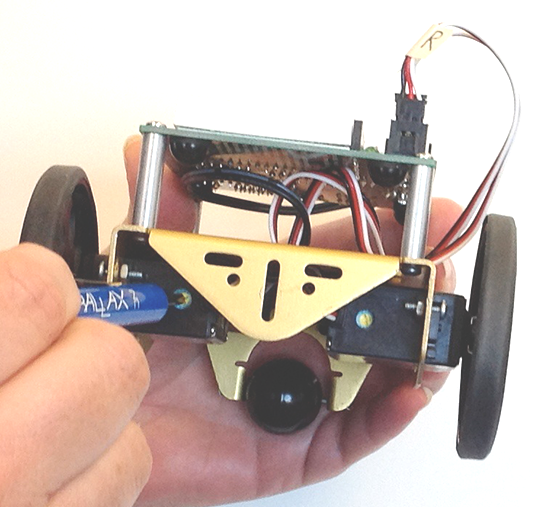 This short program is sending the "center off" command to each of the servos, and by fine-tuning both of them, they will be completely stopped when this command is received by the servos.
Your Boe-Bot's servos should now be calibrated and "centered".