The National Airspace System (NAS)
If you drive a car or ride a bike, there are rules that you have to follow. For instance, cars have to stay in their lanes, drive on the right side of the road, limit speed, and obey signals like stoplights and stop signs. When everyone driving on the road follows those rules, crashes are avoided and people are able to get where they need to go safely.
The National Airspace System (NAS) has a set of rules too. Without rules, airplanes could collide in the air or on the ground. Airplanes follow a set of rules to fly safely through the sky just like cars follow rules to drive safely on the road. Both are serious and must be followed.
In the United States, each of the 50 states generally regulates travel on its roadways, though all have the same general rules with only minor variations. In the US, the National Airspace System is regulated by the Federal Aviation Administration (FAA), and all aircraft follow the same rules throughout the country. The National Airspace System has designated places for model aircraft to fly. The FAA has also partnered with organizations such as the Academy of Model Aeronautics and the Association for Unmanned Vehicle Systems International to create KnowBeforeYouFly.org. Always refer to this site if there is a rule you are unsure of.
It is important to remember that the National Airspace System is 3-dimensional. Unlike roads and paths on the ground, there is a vertical component to airspace that is important to remember. It is possible to begin flying in airspace that is okay for model aircraft, and then continue that flight right into airspace that is not okay for model aircraft! The picture below shows examples of restricted and prohibited airspace—places where it is NOT okay to fly an sUAV: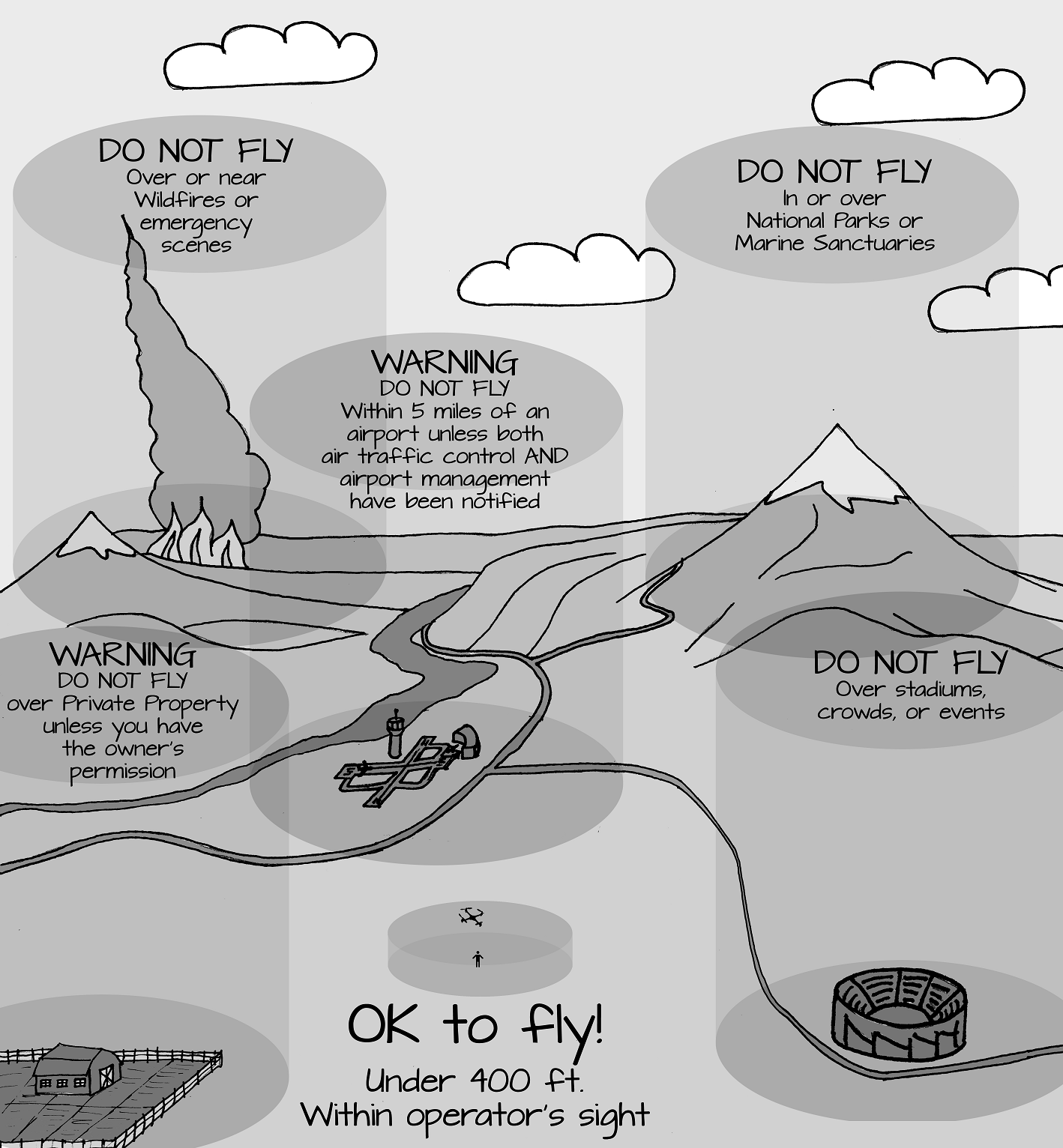 Airports
Did you know that bird-strikes cause emergency landings and damage to aircraft every year? How much more damage do you think an sUAV and explodable battery can do? Aircraft carrying people and any large aircraft ALWAYS have the right-of-way. Because airports have a lot of aircraft flying in and out of them, it is generally NOT a good idea to fly an sUAV within 5 miles of an airport. It is only okay to fly an sUAV within 5 miles of an airport if you contact the airport's control tower AND the airport's management to coordinate your flight plans with them. The airport will ask you a number of questions including your location, what type of craft you are flying, and what times you will be flying. They may inform you that you cannot fly where you initially plan to because of larger aircraft that have the right-of-way.
Wildfires or Emergency Scenes
sUAVs can cause a hazard to emergency aircraft, such as medivac helicopters or fire-fighting planes, making a bad situation even worse for emergency personnel. If there is smoke in the area, the operator may lose contact with the sUAV and cause yet another emergency. Though you might be tempted to fly your hobby sUAV with a camera near an emergency to get a better view of what is going on, this is usually NOT good "drone citizenship."
Stadiums and events
Should an sUAV malfunction, there is a higher likelihood of a person being injured when many people are concentrated into a given area. Also, professionally-flown aircraft are often present to perform at or monitor events, and hobby sUAVs pose a collision hazard for these pilots. So, don't fly there, though again it might be tempting.
National Parks and Marine Sanctuaries
Unfortunately, crashes do happen. In wild places and remote areas, retrieving a downed sUAV could be difficult or dangerous, as would fighting a fire started by a damaged lithium polymer battery. In addition, sUAVs may frighten wildlife; many species are legally protected from harassment.
Private Property
You cannot fly over private property without the owner's permission. This includes homes and farms, and places that may not seem like private property such as shopping centers and parking lots. Not only do you need owner permission, but if you crash on someone else's property, going onto their property to retrieve your drone without permission is trespassing.
Airspace is 3-Dimensional
Take a look at the picture above again. Did you notice that the restricted airspace starts at ground level and keeps going up, but the approved airspace for sUAV operators starts at ground level but stops at 400 feet above ground? This helps to keep sUAVs out of the way of professional aircraft that may be in the area.
The 400 foot limit is important to follow; large aircraft are expected to fly above 500 feet unless they are taking off and landing. There are several important exceptions: Farm aircraft (spray planes) and emergency aircraft such as medivac helicopters or fire-fighting airplanes are allowed to operate at ANY level above the ground. Because it is always possible for a large aircraft to be nearby and flying in the same airspace as your sUAV, it is important to continually look and listen for other aircraft. If you hear or see another aircraft, land your sUAV immediately and wait until you are sure the airspace is clear again.
Were can I fly?
Resources are available for sUAV operators to help them understand where they can and cannot fly. KnowBeforeYouFly.org has an interactive map that highlights restricted and prohibited airspace:
The FAA also designed an app for your mobile phone that allows you to check whether or not you can fly at your current location. Check out the B4UFLY app for more information.