In this step you will attach the battery holder to the chassis. Be gentle with the Nylon screws and nuts in this step. Don't overtighten.
Parts Required for each robot
SumoBot Chassis
Battery Holder, 4AA with barrel plug
(2) #4/40 3/8" long Nylon flat-head screws
(2) #4/40 Nylon nuts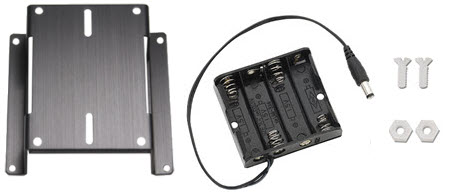 Stand the SumoBot chassis upside-down on its PCB mounting holes.
Find the white Nylon screws and hex nuts. DO NOT USE METAL SCREWS FOR THIS STEP! Metal screws can nick the coverings of batteries, creating short circuits.
Thread the screws through the battery pack, and then through the slots in the bottom of the chassis.
Secure with the Nylon nuts VERY GENTLY. Do not over-tighten which will warp the screw heads.