The scoop is for pushing or flipping your robot opponent during a wrestling match. Note that the slots for attaching the scoop allow it to be positioned slightly higher or lower.
Parts Required for each robot
Partly assembled robot (not shown)
(1) SumoBot scoop
(2) 1/4-inch 4-40 pan-head machine screws
(2) locknuts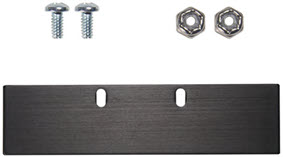 Using two 1/4-inch screws and two locknuts, attach the scoop to the outside of the scoop mount. The screws go on the outside of the scoop, and the nuts go underneath.
Carefully center the scoop in the scoop mount's slots before tightening the screws and nuts.