An Advanced Hardware Hack
If you plan to attach a servo to your ELEV-8 v3 and use it in flight, it is a good idea to give it its own power supply. With a few components and a little soldering, it is easy to build a power supply for your additional servos.
DO NOT PROCEED unless the propellers and battery have been removed from your ELEV-8 v3!
Gather your materials.
Carefully study this diagram:

To begin building the power supply shown, cut a red and a black jumper wire in half.
Take one half of a red wire and one half of a black wire and cut them in half again - be sure to save all of the pieces.
Strip the cut ends of all of the wires so they can be soldered.
Solder the wires to the components as shown in the diagram above.
Use electrical tape or heat shrink tubing to wrap up exposed connections and keep them from touching each other and shorting out.
Connect the power supply you just built to a 3-pin header on the ELEV-8 Power Distribution Board. You may need to remove the flight stack from the ELEV-8 v3 to reach the connections: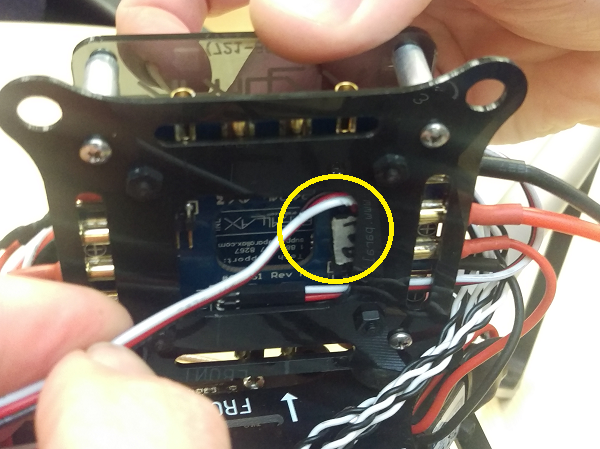 Connect a white (signal) jumper wire to the top pin on the header your servo was originally plugged into on the ELEV-8 Flight Controller: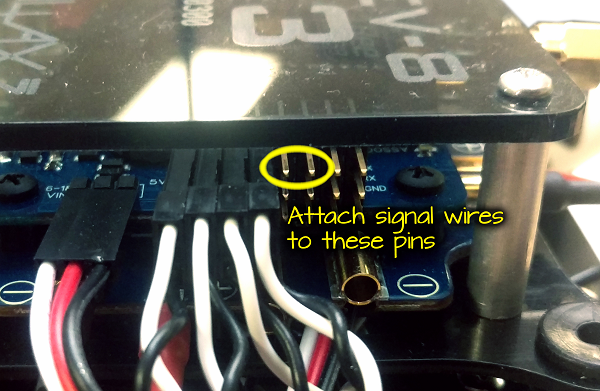 Connect the white (signal) wire and power supply to your servo as shown in the drawing above.
Turn on your transmitter.
Connect your ELEV-8 v3's battery and veryify that everything is working correctly.
If you hear any popping or hissing, or smell something hot or smoke, immediately disconnect the battery!
DO NOT FLY Your ELEV-8 v3 after modifying the hardware or firmware until you have completed the safety testing on the last page of this tutorial!