Gyroscope Calibration
The Flight Controller firmware comes with a set of default constants for the gyroscope sensor to use. By following this procedure, you will gently warm your ELEV-8 Flight Controller (or simply let it sit for a while). When completed, the GroundStation software uploads constants to the Flight Controller's EEPROM. Then, the firmware will use these constants, specific to your very own ELEV-8 Flight Controller, instead of the defaults while flying. This will improve overall flight performance.
Reloading the ELEV-8 Flight Controller firmware will not over-write the calibration settings you create with this procedure. To completely erase these (caution - and all!) calibration settings, see the Factory Default option under the System Setup tab.
Connect your ELEV-8 v3 to your computer, open the GroundStation, and make sure that your ELEV-8 v3 is shown as connected.

In the Ground Station software, click on the "Gyro Calibration" Tab. You will see this screen: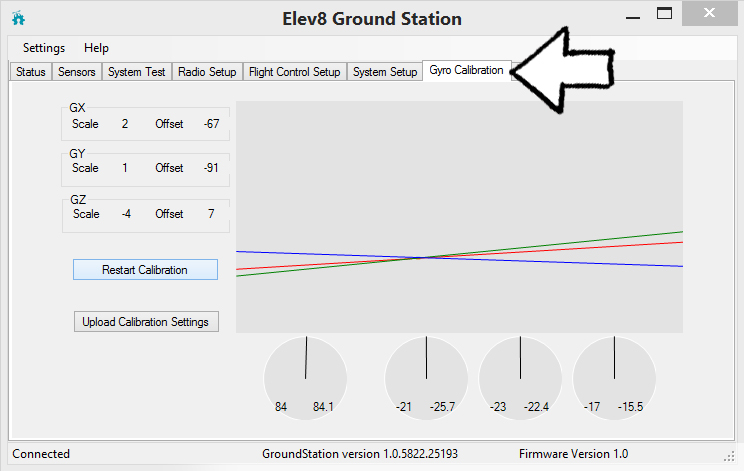 To properly calibrate the ELEV-8 Flight Controller gyroscope, you will need a hair dryer or other source of gentle warm air. If you do not have access to a hair dryer, you can simply leave the ELEV-8 v3 still for a long period of time (5-15 minutes).
It is important for the ELEV-8 to remain absolutely still during calibration - slamming doors or someone walking around and shaking the floor can create enough vibration to throw off the calibration.
With the ELEV-8 v3 stationary, click the "Restart Calibration" button.
Hold the hairdryer at least 18 inches (50 cm) away from the flight controller.
Use the hairdryer to blow warm air at the flight controller for a few seconds to warm it up. You don't need to heat it a lot, so 5-10 seconds of warm air is enough.
The gyro readings should plot a line and the offset and scale values will mostly stabilize. If you do not have a hair dryer or heat gun, leave the ELEV-8 v3 still for a long period of time to stabilize the gyro readings. When they are stable, the graph will look similar to this: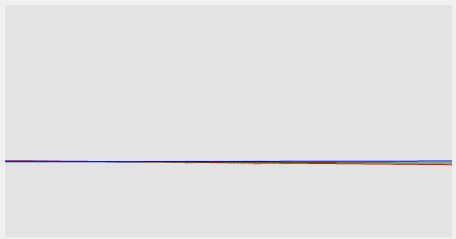 Once the readings are stable, click the "Upload Calibration Settings" button to set the gyro calibration data.
The ELEV-8 Flight Controller will beep to let you know the settings have been saved.