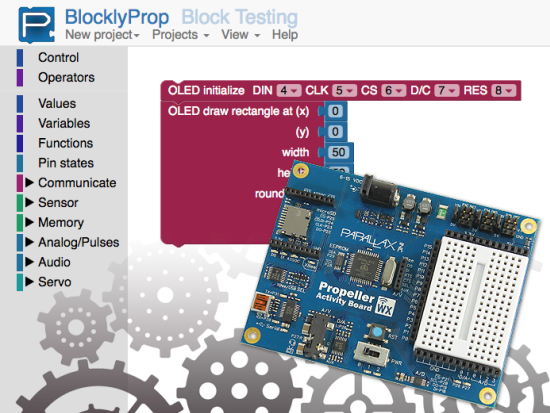 Supported Boards: This guide supports the Activity Board WX, which is used in many of our tutorials. It is also for the original Activity Board and other Propeller development boards with a similar 5 MHz oscillator and EEPROM, such as the Hackable Electronic Badges and Propeller Project Board USB.
Need HELP??? If you get stuck, contact Parallax Tech Support: email support@parallax.com, or call 888-997-8267 (USA only) or 916-624-8333. 8-5 M-F. Pacific Time.
What is a Propeller Microcontroller? It's the tiny integrated circuit brain on the Activity Board, FLiP module, and Hackable Electronic Badge. The Propeller microcontroller can make decisions, turn things on and off, read sensors, and do calculations. It is what makes your inventions come to life. Want to know a bit more about it? Click here for a short read on the Propeller multicore microcontroller.
What is BlocklyProp? BlocklyProp is a fun, easy way to build a Propeller program – piece by piece – using blocks. It is an adaptation of Google's open-source Blockly tool.
If you have some experience with programming, robotics, or Blockly, that's great! But if you don't, do not worry, it is not required here. Either way, we encourage you to go through this introduction before moving on to other BlocklyProp tutorials or or projects.
Follow the links below to get started!