The switch terminals may come on a strip. Clip the terminals off from the carrier strip shown below.

Then, trim the little tab off of the terminal as shown in the image below.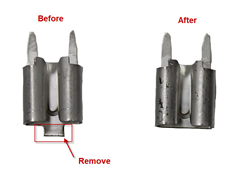 Solder the switch terminals to the board. The terminals should be a tight fit, and when soldered they should all be perpendicular to the PCB.