This chapter contains instructions for building and testing your BOE Shield-Bot. It's especially important to complete the testing portion before moving on to the next chapter. By doing so, you can help avoid a number of common mistakes that could otherwise lead to mystifying BOE Shield-Bot behavior. Here is a summary of what you will do:
Build the BOE Shield-Bot.
Re-test the servos to make sure they are properly connected.
Connect and test a speaker that can let you know when the BOE Shield-Bot's batteries are running low.
Use the Serial Monitor to control and test servo speed.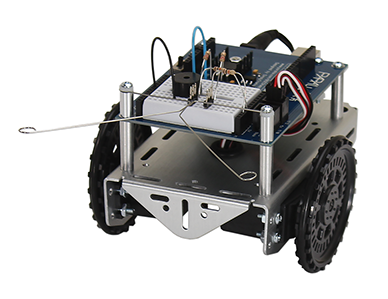 Save the file to your desktop, and unzip it before using the sketches.
Follow the links below to get started!
Code Update Notice
The Chapter 3 Arduino Code was updated on 11/15/2012. See the notice on this page for details.