Even though BlocklyProp Solo is an online programming tool, it nees a utility on your computer to make the USB programming connection with your Propeller board.
Installing the Launcher Ahead of Time
Download and install the BlocklyProp Launcher for Windows or Mac, or get the extension for Chromebook, from the Parallax store site, and then run it. Or, if it is already on your computer, run it now.
BlocklyProp Launcher Downloads
You can also get the latest Launcher for your system through BlocklyProp Solo itself, by making your first project - just follow the steps below. If you have the launcher installed, just skip what doesn't apply.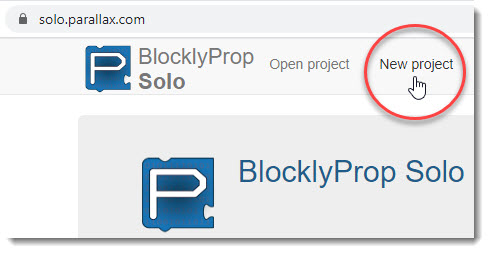 In the window that opens, type in a Project Name.
From the dropdown menu, select your Propeller board type.
Click Continue.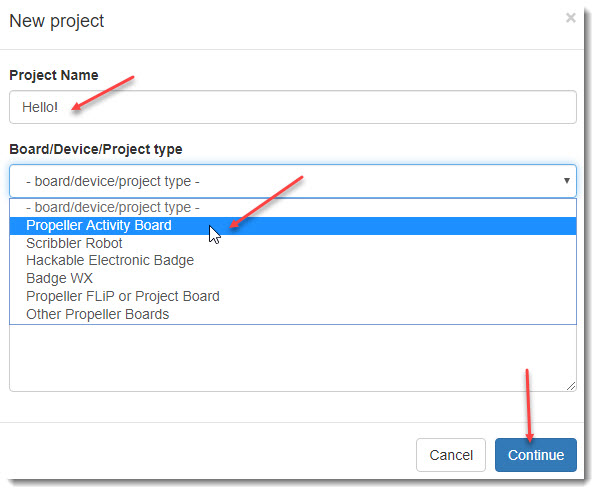 The BlockyProp Solo editor pane will open up. If you have not installed the Launcher ahead of time, you will see a pink alert bar with the message "BlocklyProp Launcher not found. Click here for instructions."
If you see the pink alert bar, click on it and continue with the instructions below.
If you instead see the message "Select the correct port..." skip to the next page.

A download instruction window for BlocklyProp Launcher will open. Under Download the Installer, you should see options for your operating system.
RIGHT-Click the installer link for your operating system and choose Copy Link Address (If it is not shown, click "Choose a different operating system" to find the best option.)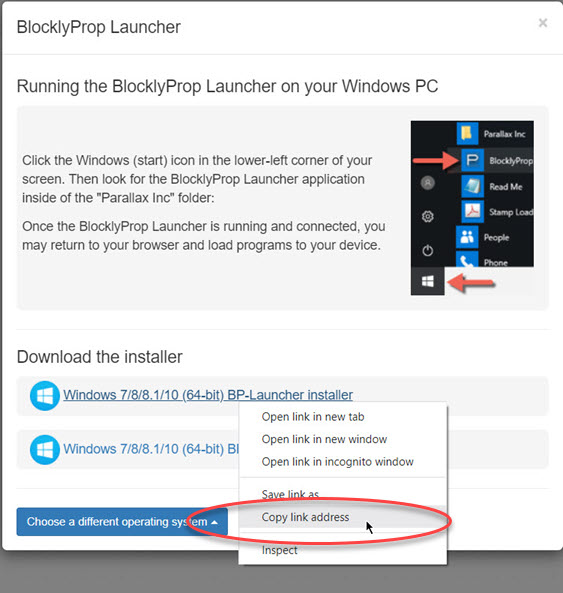 OPEN A NEW BROWSER TAB and paste the link address into it.
Follow the prompts to save the Launcher file to your Windows or Mac computer, or if on a Chromebook, follow the prompts to install.
If you downloaded an .exe file for Windows, click on the file to start installation.
If you downloaded a .zip file for Mac or Windows, extract the file first.
A Setup Wizard will open. Click the Next buttons to follow the prompts through installation.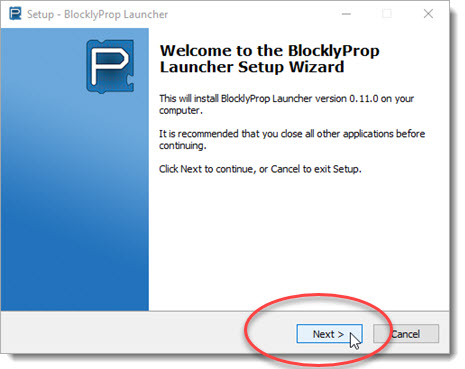 Accept default installation with FTDI drivers. Click Finish when complete.
If you are on a Mac computer, bookmark this page and also https://solo.parallax.com. Reboot and come back!
Open the Launcher from the desktop icon or from your Start menu, if it is not already running.
The Status button should turn green and say "Connected!" DON'T CLICK ANY BUTTONS HERE THIS TIME!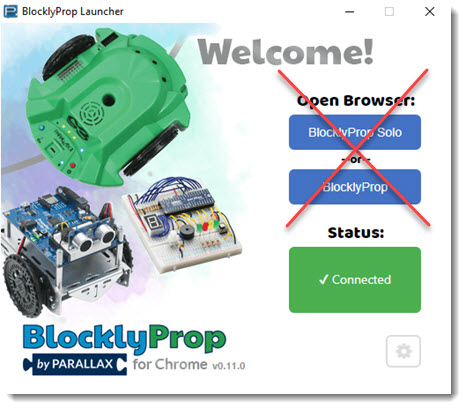 Now, you can return to BlocklyProp Solo in your Chrome browser. Go to the next page to connect your hardware and run your first project.