Have Feedback 360° Servos? If yes, skip this step.
Go to Step 9 - Mount Battery Pack.
Mount the Right External Encoder
Parts needed for this step:
right encoder assembly from Step 1.
(2) 3/8-inch pan-head screws (#700-00022)
(2) nylon core lock-nuts (#700-00024)
Position the right encoder assembly over the right servo on the outside of the chassis. The cable should point backward toward the grommet hole.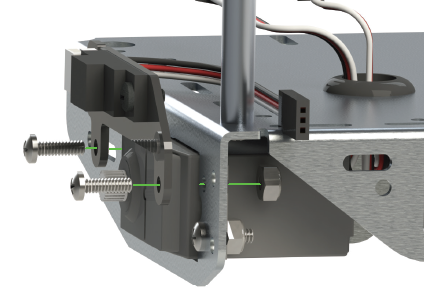 Secure the right encoder using two 3/8" screws and lock-nuts. Each screw will thread through the encoder, the chassis, and then the servo mounting tab. It helps to use the closed end of the small wrench to hold the nuts in place.