With the next program, use buttons 1-9 to drive the robot in different directions. Once you press a button, your robot will drive in that direction until you choose another direction. Press 5 to make it stop.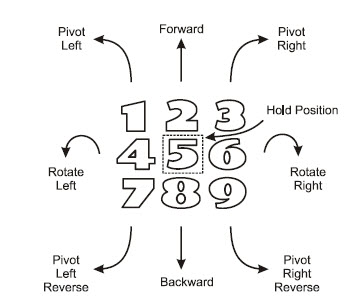 Enter, save and flash IR_Remote_Control.py
Put the cyber:bot board's power switch in position 2, and put the robot on the floor.
Point the remote at the IR receiver on the board, and press numbers on the remote to make it drive. Press 5 to make it stop.
# IR_Remote_Control.py

from cyberbot import *
from tv_remote import *

wL = 0
wR = 0
img = Image.HAPPY

bot(22).tone(2000, 300)

while True:
    num = ir(10).remote()

    if num == 1:
        wL = 0
        wR = -75
        img = Image.ARROW_SE
    elif num == 2:
        wL = 75
        wR = -75
        img = Image.ARROW_S
    elif num == 3:
        wL=75
        wR=0
        img=Image.ARROW_SW
    elif num == 4:
        wL=-75
        wR=-75
        img=Image.ARROW_E
    elif num == 5:
        wL=0
        wR=0
        img=Image.HAPPY
    elif num == 6:
        wL=75
        wR=75
        img=Image.ARROW_W
    elif num == 7:
        wL=0
        wR=75
        img=Image.ARROW_NE
    elif num == 8:
        wL=-75
        wR=75
        img=Image.ARROW_N
    elif num == 9:
        wL=-75
        wR=0
        img=Image.ARROW_NW

    display.show(img)
    bot(18).servo_speed(wL)
    bot(19).servo_speed(wR)